"King Richard" Dean Greer Richard Petty Song Late 1970's
AmericanaSam on YouTube
Folks, I found this record back in the late 1970's, and it was being sold at the Joe Weatherly Stock Car Museum gift shop, in Darlington, South Carolina, at the Darlington Motor Speedway. (I think I paid a dollar for it as that the museum had a stack of them to sell at the time.) I seem to remember buying it around 1978 or 1979. Possibly even 1980.  Richard Petty
I had just become a teenager…and wanted to start having my own 45 rpm record collection (usually of old stuff!), but thought that this "new" recording would be a nice addition to my then beginning collection. (Which has gotten WAY out of control since then! LOL!) Also, being from North Carolina, stock car racing was always a topic of conversation, especially with my late father, who had kept up with it since the dirt track days of the 1950's. (I even had a late cousin in Kannapolis, North Carolina, who worked for Ralph Earnhardt, father of Dale, Sr., back during the dirt track days as well.)
My father was a World War II veteran, who had served as a tailgunner in a B-24 bomber with the 5th Airforce, so he could appreciate high-speed machinery. Whenever there was a race broadcast on Sunday, my father would keep a radio tuned to it in the front yard, the back yard…and yes the TV set in the living room (and don't you change the channel!), so that ANYWHERE he went around the house doing his chores throughout the afternoon….he could hear the race! And yes, "King" Richard Petty was always my father's favorite driver to root for in those days.
(Many will agree with me.) So, digging out this now 30-plus year-old recording, from one of my many forgotten stacks of old 45's, is a nice way to remember those golden days of racing…and when my late father always tuned it in…and cheered on "King" Richard." (That is, if Ricky Rudd didn't knock him out in turn three! LOL!)
I can find out nothing on the internet about the artist, Dean Greer, who wrote this song, or the Deville record company that pressed it. I think it was a local Carolina record label…and quite possibly a now long forgotten Carolina country artist. Like I said, I've had the record in my collection for over 30 years now. Under the Fair Use Clause, this recording is only presented here for non-commercial and educational usage, as that I'm a Carolina historian of sorts, and would like the world to know about the rich musical heritage of North and South Carolina.
If you would like to read more about what I collect and research, do go to www.carolinahistoryproject.com. Also, do visit our city's Nascar Hall of Fame Museum in Charlotte, North Carolina. (Trust me, you will learn PLENTY about Richard Petty there!) OK, enjoy. Get your engine reving…and like the song lyrics say…."To beat the KING, you've got to beat the best. KING RICHARD. KING RICHARD….IS HIS NAME! (And don't forget, he was from Ranlo, North Carolina.)  Richard Petty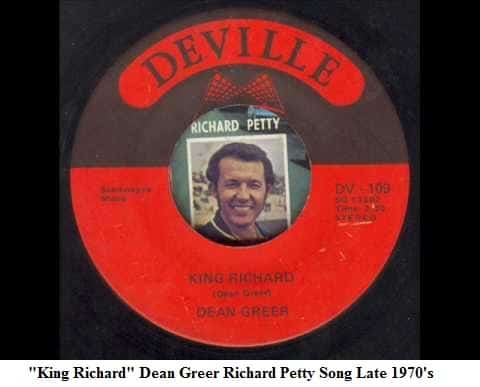 I am proud to bring you this site, after many years of wondering who won the Daytona 500 in a certain year or how many times did Richard Petty win?  I thought I couldn't possibly be the only one that has a need for a site like this.  So I made it.  If you found this site useful, please link to us or mention us on your racing related web site or social media.  Thank you very much.