One of Those Drivers You Just Pull For
By Kent Whitaker:
To me, one of the easiest drivers to pull for in Cup Series racing is Matt DiBenedetto. Several seasons ago I heard the name mentioned for the first time. Like many, I wondered how it was pronounced… or, if I could pronounce it correctly.  MATT DIBENEDETTO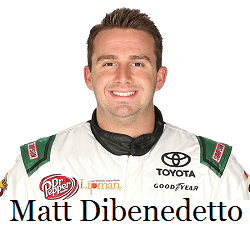 Matt Dibenedetto
The Monster Energy NASCAR Cup Series driver was then turning laps in the NASCAR Xfinity Series. The name stuck out – mostly because I had to repeat it a few times to ensure that I was pronouncing it correctly. As it turns out, I was not.
Matt DiBenedetto raced consistently in the Xfinity series from 2009 to 2013 where he entered anywhere from 1 to 7 races a season. He also made several starts in the ARCA Racing Series Presented by Menards as well as the NASCAR K&N Pro Series.
The move to being a full-time Cup Series driver has not been the smoothest for DiBenedetto as many races ended up as "start and park" rides. But, even in those situations the driver did his best, qualified well, took care of his equipment, and eventually would progress up the ranks.
The Tony Stewart Story
A quick look at DiBenedetto's website and bio was an eyeopener. I learned a lot about the driver including a reminder about a run-in with a NASCAR Champion. I am sure this was not funny at the time. And, DiBenedetto may still think it's not a humor tale. But, as a writer, looking back at the issue with Tony Stewart during a race weekend at Martinsville has the earmarks of a scene from a Hollywood movie.
DiBenedetto, driving for BK Racing at Martinsville, exited the pits during practice. With Carl Edwards nearby the driver tried to close the gap before an oncoming car – driving by Tony Stewart – caught up to them. DiBenedetto stated he moved completely up the track to let the faster car pass by but Stewart didn't seem to appreciate the effort. DiBenedetto later told Foxsports.com that Stewart tried to get a little pay back.
"I got completely out of his way, but that wasn't enough. He tried to wreck me a few times, brake-checking me and flipping me off around the whole track." After the incident, DiBenedetto was reported to have called Stewart "an arrogant prick"
As I said before – it was not funny at the time – I'm sure. But, think about it in a movie script. The young hero completes laps around the track during a race. Every time the film's antagonist drives by the young driver is treated to being flipped off. Eventually the gesture, by movies end, would be one of endearment at the two reconcile, laugh, and celebrate in victory lane. – But that's just a movie scene.
Stops Along the Way
DiBenedetto has worked his way through the same path than countless other drivers have taken on the road to hopefully making it to the cup level. He started following the sport watching races with his dad as a youngster growing up in Grass Valley California. Soon he was suited up trying his hand at racing karts. By the time he was twelve, the youngest son of four, had already racked up five Championships.
The family moved to North Carolina and Matt continued to race as his parents worked to keep everything going and their team funded. A couple of more Championships followed as DiBenedetto moved onto racing Limited Late Models at the age of 16. Exposure from winning at tracks such as Hickory Motor Speedway continued to help Matt connect with drivers, teams, and owners across NASCAR. But, funding was still an issue and the decision to field a team for a new season with limited family funding was done one last time.
Just as things were coming to an end DiBenedetto started to connect with other teams allowing him to race at bigger venues such as Bristol and eventually showcasing his talent for teams looking for developmental prospects. The end result, DiBenedetto signed with Joe Gibbs Racing to run in several NASCAR touring series. By the age of 18 he qualified 5th for his first start in the NASCAR Nationwide Series which is now known as the Xfinity series.
Beating the Bumps in the Road
After driving and capturing Championships since the age of twelve Matt entered a period of racing where full-time rides were tough to come by. The driver jumped in the seat for underfunded teams just to qualify and run long enough to collect some prize money. During the rest of the season he was helping his dad out with his body shop business.
But, the opportunity to jump into cars when needed kept coming and NASCAR changed some of the ways that teams were paid. An emphasis on staying in a race longer weeded out many start and park efforts. DiBenedetto started finding himself in better and better equipment. The driver racked up two top-fifteen finishes in 2014. The driver went on to lead his first Cup Series lap in 2015. By the 2016 season the numbers improved with great finishes including a 6th place run at Bristol Motor Speedway.
After all the years working his way up the ladder, and then hitting several bumps in the road, DiBenedetto now finds himself as a veteran full-time driver in the Monster Energy NASCAR Cup Series. Dale Earnhardt Jr called him. "One of the most underrated drivers in the series."
Now, married with a growing family the ever-popular driver continues to grow in the sport while remaining true to his roots. He's dedicated to his wife and kids, family, sisters, brother, and his team. And, Matt will still take time out for his love of golf, being a gun enthusiast, and cooking. It's hard not to pull for a driver along the lines of Matt DiBenedetto.
MattdRacing.com


ABOUT THE AUTHOR: Kent Whitaker, often called 'the Deck Chef,' is a sportswriter, culinary writer, and cookbook author with fourteen titles. He covers NASCAR, racing in general, Football, barbecue, grilling, and tailgating. You can visit him on The Deck Chef ."