Career Chronology: LeeRoy Yarbrough 
1960: Started racing the Sportsman Division in NASCAR
1964: Won two short-track races at the Grand National (Sprint Cup).
1968: Takes 2nd place at the Daytona 500 in his Mercury.
1969: Wins the Daytona 500 with Team Johnson and Ford.
1971: Races his final Daytona 500 with a 34th place finish.
1971: Crashes at his final Indianapolis 500 and suffered brain trauma.
Photo Links:
https://en.wikipedia.org/wiki/LeeRoy_Yarbrough#/media/File:LeeRoyYarbroughNASCAR1969.jpg
Video Links: LeeRoy Yarbrough
https://www.youtube.com/watch?v=fVh7T6hSNnE
Career Highlights: LeeRoy Yarbrough
He started indulging his love for cars as a teenager, building his first by age sixteen: a Ford Coupe with a Chrysler engine.
He started his career in NASCAR in the lower tier Sportsman Division in 1960 and won two short-track races in 1964.
He started out poorly in the 1968 season, but was able to pull out wins at both Atlanta and Trenton.
His career was ended after suffering serious brain trauma after his crash at the Indianapolis 500 in 1971, leading to a series of unfortunate events and subsequent hospital stay until his untimely death in 1984.
Biography:  LeeRoy Yarbrough
Lonnie LeeRoy Yarbrough was the winner of the Daytona 500 in the year 1969. He won seven races and 21 top-ten wins that same year. His racing career was one that quickly rose into a series of wins, and perhaps just as quickly faded. Born in 1938 in Jacksonville, Florida, he started with an early love for engines and cars, building his first car at just sixteen years old. His racing career began in 1960 in the lower tier Sportsman Division of NASCAR, and his racing record lasted until 1972.
During the span of his career, he accumulated fourteen wins and 65 top-five finishes. After his wining streak in 1969, his career slowed with the lack of a ride. At the Texas World Speedway in 1970, he suffered a rather serious crash, and began having rather serious memory problems. The following year, he crashed again during the first turn of the Indianapolis 500, and was in and out of the hospital consistently for several months after.
His career had faded in the years following, and his memory and overall condition had unfortunately degenerated as well. In 1980, he was placed in a mental facility in Florida State Hospital, after an attempt on his mother's life. In December of 1984, he suffered serious head trauma after falling from the fit of a violent seizure, and passed the following day from the injuries sustained.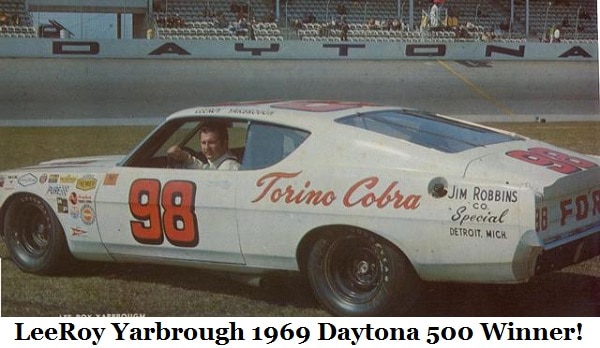 I am proud to bring you this site, after many years of wondering who won the Daytona 500 in a certain year or how many times did Richard Petty win?  I thought I couldn't possibly be the only one that has a need for a site like this.  So I made it.  If you found this site useful, please link to us or mention us on your racing related web site or social media.  Thank you very much.