Career Chronology: Fireball Roberts 
1947: Fireball Roberts began his career at the Daytona Beach Road Course.
1962: Wins both the Daytona 500 and Firecracker 250 events.
1964: Crashed on the 7th lap at the World 600 and died several weeks later.
1990: Inducted into National Motorsports Press Association Hall of Fame.
1995: Inducted into Motorsports Hall of Fame of America.
1998: Selected as one of NASCAR's 50 Greatest Drivers, Fireball Roberts.
Photo Links: Fireball Roberts
http://www.fireballroberts.com/fireball_NashvilleDragMeet63.jpg
Video Links: Fireball Roberts
https://www.youtube.com/watch?v=O3phElGEH5c
Career Highlights:
Played as a pitcher for the Zellwood Mud Hens, where he earned the nickname "Fireball" for his fastball.
His first race was at the young age of 18 at the Daytona Beach Road Course.
He finished in the top five 45 percent of the time in his career, and in the top ten 59 percent of the time.
Crashed at the World 600 and perished several weeks later from his injuries.
Biography:
Fireball Roberts born in 1929 and raised in Florida, Edward Glenn "Fireball" Roberts, Jr. grew up with a great interest in baseball and auto racing, and went on to become one of the pioneers of NASCAR racing. He pitched for the Zellwood Mud Hens where he was given the nickname "fireball," due to his impressive fastball. While his baseball dreams simmered, he began his career in the fast lane by racing dirt tracks at the early age of eighteen. He started racing dirt tracks on weekends while attending the University of Florida. He was soon into the big leagues of racing, when he found success driving in the 1947 Daytona Beach Road Course. He became a widely known icon for his buzz cut and fast moves. As NASCAR began shifting to superspeedway tracks more than shorter dirt tracks, Roberts still managed to keep his winning streak going strong. His NASCAR track record consists of an impressive 206 races, with 33 wins and 32 poles, and finishing in the top five for half of his career.
At the World 600 race in Charlotte, North Carolina, Roberts met the unfortunate end of his career. During the middle of the seventh lap on the track, there was a two-car accident ahead of him that caused Roberts car to crash avoiding their wreck. His car slammed into the inside wall, flipped over, and immediately burst into flames. His racing partner, Ned Jarret, pulled him from the vehicle and he immediately taken to the hospital. Unfortunately, after several weeks, his condition deteriorated after he contracted pneumonia and sepsis, causing his death on July 2, 1964.
After Roberts died, NASCAR took measures to mandate flame-retardant uniforms for all drivers and instituted the safety harness. Despite his untimely death and having never won a Grand National title, "Fireball" Roberts led an impressive auto-racing career, and he was named one of NASCAR's 50 Greatest Drivers and was also inducted into the International Motorsports Hall of Fame in 1990 and the Motorsports Hall of Fame of America in 1995. The people of Concord, North Carolina named a street near Charlotte Motor Speedway in honor of his memory in 2000.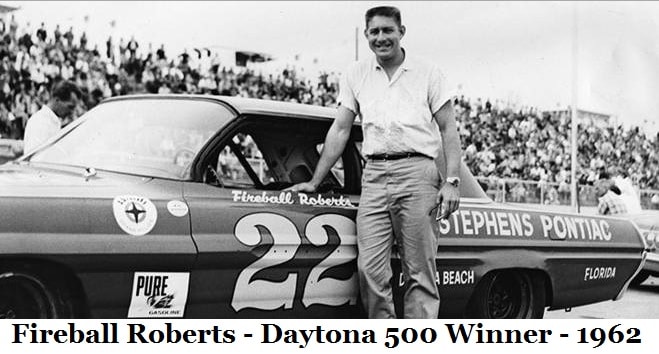 I am proud to bring you this site, after many years of wondering who won the Daytona 500 in a certain year or how many times did Richard Petty win?  I thought I couldn't possibly be the only one that has a need for a site like this.  So I made it.  If you found this site useful, please link to us or mention us on your racing related web site or social media.  Thank you very much.