Career Chronology: Darrell Waltrip 
1972: Darrell Waltrip began racing in the NASCAR division.
1975: Darrell Waltrip wins his second career NASCAR Winston Cup
1976: Wins the Snowball Derby in Pensacola.
1989: Wins the Daytona 500.
1990: Wins NASCARS's 'Most Popular Driver' for the second year in a row.
1998: Named one of NASCAR's 50 Greatest Drivers.
2003: Inducted into the Motorsports Hall of Fame of America.
2005: Inducted into the International Motorsports Hall of Fame.
2012: Inducted into the NASCAR Hall of Fame.
Photo Links: Darrell Waltrip
https://upload.wikimedia.org/wikipedia/commons/d/d4/Darrell_Waltrip_1997_-_Nascar_Photography_By_Darryl_Moran.jpg
Video Links: Darrell Waltrip
https://www.youtube.com/watch?v=I4kgspHuQHc
Career Highlights: Darrell Waltrip 
Competing in 809 Cup series starts over four decades, from 1972 to 2000, he scored 271 Top 5's and 390 Top 10's.
Took three "American Driver of the Year" awards, "NASCAR's Driver of the Decade" for the 1980s, as well as three awards for "National Motorsports Press Association Driver of the Year," and two awards for "Auto Racing Digest Driver of the Year."
He became the firstNASCAR driver to be presented with over $10 million in race winnings.
Waltrip also holds the all-time track record 67 wins theFairgrounds Speedway in Nashville, Tennessee.
Biography:
As an accomplished racing driver, author, and broadcaster, Darrell Lee Waltrip is a three-time NASCAR Cup Series Champion. He was also the runner-up three times in the series. He has a series record of 22 top-fives in 1983, 21 top-fives in 1981 and again in 1986. During the span of his career, Waltrip won NASCAR Cup Series races 84 times, which includes the 1989 Daytona 500 and five wins in the Coca-Cola 600. He is tied with Bobby Allison in fourth place on NASCAR's top winners list in the Cup Series and second with Jeff Gordon for the most modern-day wins.
Born in 1947 in Owensboro, Kentucky, Waltrip started racing go-carts at twelve years old, and quickly went into the world of stock car racing. He won two track championships in 1970 and 1973 in Nashville, and he was an early racer at the Kentucky Motor Speedway. He started racing in the NASCAR Winston Cup in 1972 at 25 years old. Throughout his career, he has won many awards, including the Most Popular Driver Award in 1989 and 1990, and he took in 84 wins. He retired in 2000, and he was appointed to the NASCAR Hall of Fame in 2012. Being known as articulate and media savvy, he is currently an analyst and columnist for Fox Sports.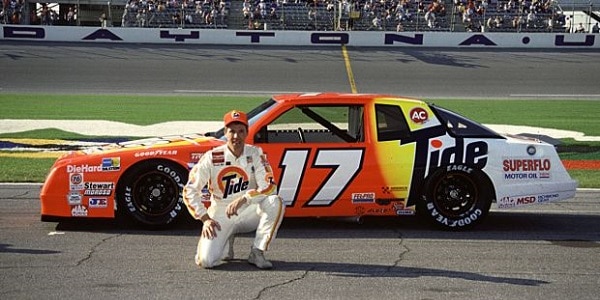 I am proud to bring you this site, after many years of wondering who won the Daytona 500 in a certain year or how many times did Richard Petty win?  I thought I couldn't possibly be the only one that has a need for a site like this.  So I made it.  If you found this site useful, please link to us or mention us on your racing related web site or social media.  Thank you very much.