Matt Kenseth – 2012 Daytona 500 Winner
February 27, 2012 the 54th running of "The Daytona 500″
Carl Edwards started on the pole with a qualifying speed of 194.738 mph.  He would finish a respectable 8th.  Matt Kenseth started in the second row outside in 4th.  Lap 81 Flames shoot out from under Jeff Gordon's car, he blew an engine.  There is a "Midway Payday" for the race leader at half way, a $200,000 bonus.  On lap 99 Greg Biffle is leading, coming out of turn 4 here they come.  Martin Truex Jr. being pushed by Denny Hamlin take the outside and blow by Biffle.  Martin Truex Jr. wins the half way bonus money.  2012 Daytona 500 winner…
Video by: Kanal von JPM92
 Denny Hamlin leads the most laps at 57 then Matt Kenseth at 50 and Greg Biffle at 44.  On lap 144 crew chiefs keeping an eye on the radar notice that there is a possibility of some clouds moving in.  Matt Kenseth to the lead.  This is the race that on lap 160 while cleaning up debris from the track Juan Pablo Montoya slams into one of the jet dryers and set it a blaze.  After a very long red flag delay to clean all this up we go back to green with Matt in the lead.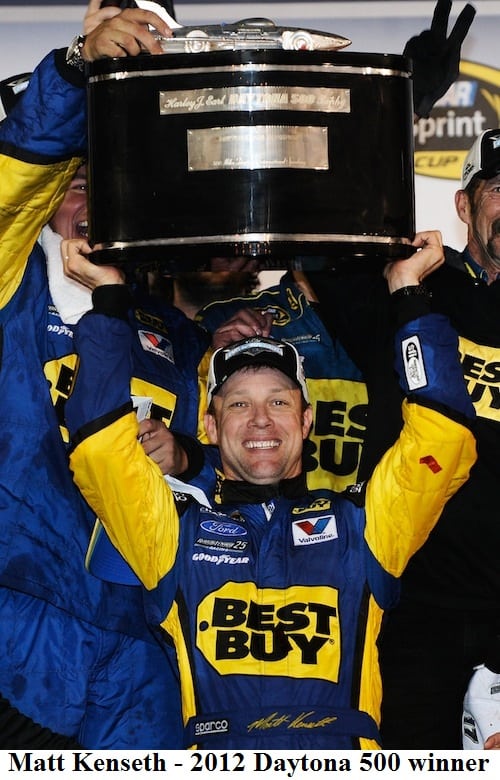 Lap 187 the big one, many race-cars torn up and more clean up to be done.  They restart with 8 laps to go and Matt still in the lead with Dale Jr. pushing in second.  Lap 196 another big one, at least 6 cars out.  Now we are in overtime.  Restart on lap 201 and Matt Kenseth wins the Daytona 500 with Dale Jr. taking second away from Biffle at the last second.  Nice finish!  The 2012 Daytona 500 winner – Matt Kenseth…
---
I am proud to bring you this site, after many years of wondering who won the Daytona 500 in a certain year or how many times did Richard Petty win?  I thought I couldn't possibly be the only one that has a need for a site like this.  So I made it.  If you found this site useful, please link to us or mention us on your racing related web site or social media.  Thank you very much.