Michael Waltrip – 2003 Daytona 500 winner
February 16, 2003 the 45th running of "The Great American Race"
200,000 screaming race fans showed up for the 2003 Daytona 500.  Jeff Green wins the pole with a qualifying speed of 186.606.  However quickly moving in to the lead Michael Waltrip would lead the first 26 laps after starting 4th.  Dale Jr. took the lead just before the rain came.  After the rain was the restart and Michael Waltrip and Jr. would take turns leading until Jr. would have battery troubles.  On lap 94 Jeff Green's day would come to an end when he hit the wall coming out of turn 4.   2003 Daytona 500 winner…
Video by: Nascar All Out
Just past half way the rains moved in again.  109 laps run and Michael Waltrip is the 2003 Daytona 500 winner.  Kurt Busch takes second, Jimmie Johnson in third followed by Kevin Harvick in fourth and Mark Martin rounds out the top five.  Only 5 cautions and 11 lead changes Michael Waltrip lead 68 of 109 laps, the most of any driver today.  Dale Jr. lead 22 laps, started second and finished in 36th.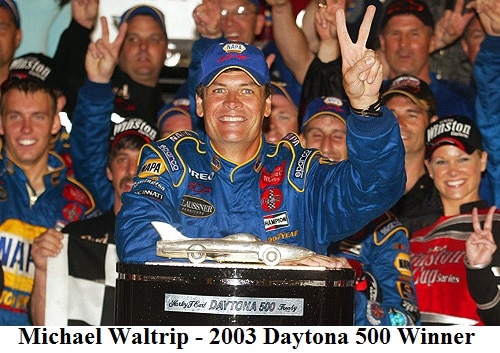 His second victory in the Daytona 500.  Michael Waltrip is a force to be recond with on the super speedway tracks and he give credit to his success to Dale Earnhardt Sr.  as everyone of his 31 year career wins were on super speedways.  Michael raced in 779 NASCAR races, sat on the pole 4 times, won 4 times, finished in the top five 41 times and had 132 top ten finishes.  Michael Waltrip is the 2003 Daytona 500 winner and the 2001 Daytona 500 winner…
---
I am proud to bring you this site, after many years of wondering who won the Daytona 500 in a certain year or how many times did Richard Petty win?  I thought I couldn't possibly be the only one that has a need for a site like this.  So I made it.  If you found this site useful, please link to us or mention us on your racing related web site or social media.  Thank you very much.