Dale Jarrett – 1993 Daytona 500 winner
February 14, 1993 the 35th running of the "Great American Race"
1993 would be the first Daytona 500 that Richard Petty was not racing in, however he was here as a team owner.  A rookie we all know was making a name for himself, 21 year old Jeff Gordon.   Earlier in the week Jeff became the youngest driver to win a 125 qualifying race.  He started in the second row for this Daytona 500.  Once again Dale Earnhardt is running up front.
Video by: Nascar All Out
The first of 7 cautions was brought out for Jimmy Hensley who blew a motor, spun out and slammed the wall hard but he was OK. After that first caution they had a green flag run that would last for 114 laps with Dale Earnhardt in the lead for most of it. From lap 172 Dale Earnhardt led Jeff Gordon and Dale Jarrett.  Gordon and Jarrett working hard and jockeying for position to setup Earnhardt and take the lead on the last lap  And Dale Jarrett was able to do just that.  Jeff Gordon ended up 5th.  The 1993 Daytona 500 winner, Dale Jarrett…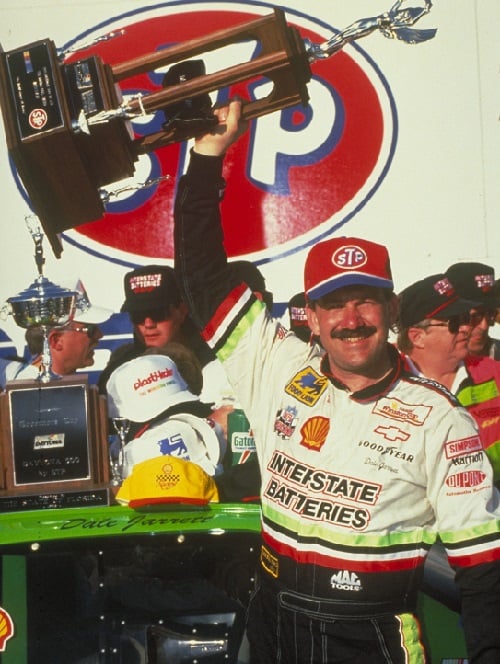 Dale Jarrett's first of three Daytona 500 wins.  This would be Jarrett's only win this year.  He did have 13 top fives and 18 top tens in the 1993 season.  Dale had a 24 year NASCAR racing career that included 32 wins and 16 pole position starts.  Dale has followed in his fathers footsteps now becoming a top notch broadcast announcer.  1993 Daytona 500 winner…
---
I am proud to bring you this site, after many years of wondering who won the Daytona 500 in a certain year or how many times did Richard Petty win?  I thought I couldn't possibly be the only one that has a need for a site like this.  So I made it.  If you found this site useful, please link to us or mention us on your racing related web site or social media.  Thank you very much.