Ernie Irvan – 1991 Daytona 500 winner
February 17, 1991 the 33rd running of the "Great American Race"
Davey Allison started on the pole and Dale Earnhardt right behind him.  Everybody knew it wouldn't be long before Dale was out front.  Fun fact:  This is the race that a seagull flew right in to Dale Earnhardt's car.  Sammy Swindell brought out the first of 9 cautions with a spin. With 21 lead changes, Kyle Petty would lead the most laps at 51.  The 1991 Daytona 500 winner…
Video by: Nascar All Out
Once again Dale Earnhardt leading the race and dominating the show gets passed by Ernie Irvan with 6 laps to go.  Dale had a tire going down, with 3 laps to go Dale & Davey Allison are banging door to door and both spin and crash, the yellow flag comes out and they finish under a yellow.  After the race Ernie explains that on the last lap he started to run out of gas so he quickly moved to the apron and had just enough gas to be the 1991 Daytona 500 winner.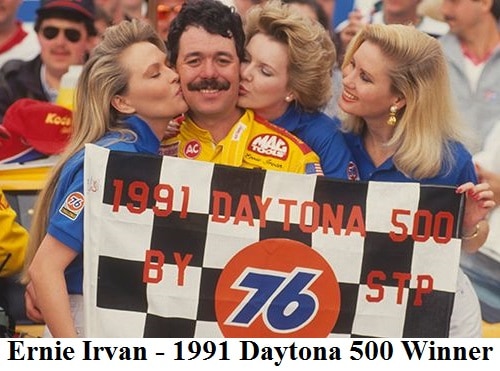 Ernie Irvan had a fairly short NASCAR racing career.  13 years total he didn't get started til he was 28 years old. Ernie had a total of 15 wins, 68 top fives, 124 top tens and started on the pole 22 times in a total of 313 races.  Ernie Irvan was born on January 13th, 1959 in Modesto, CA.
---
I am proud to bring you this site, after many years of wondering who won the Daytona 500 in a certain year or how many times did Richard Petty win?  I thought I couldn't possibly be the only one that has a need for a site like this.  So I made it.  If you found this site useful, please link to us or mention us on your racing related web site or social media.  Thank you very much.