Derrike Cope – 1990 Daytona 500 Winner
February 18, 1990 the 32nd running of the "Great American Race"
A fan favorite Dale Earnhardt, many where wondering if this year would be his year to win.  Dale did win his 125 qualifying race.  Ken Schrader won the pole position and Dale started on the outside of him.  Dale took the lead on the second lap and stayed there for 26 more.  The first caution of the day would be Richard Petty, spinning in the turns 1 and 2 area, with no other damage.
video by: Nascar All Out
Earnhardt would dominate this race and that's an understatement.  If he wasn't leading the race he was in the pits for a routine stop, quickly after coming out of the pits he would regain the lead, this went on all day.  Dale was leading when the white flag came out, unbelievably just entering turn three something happened to Dales car, he started to slow when four cars got by him to force a fifth place finish for Dale Earnhardt.  Derrike Cope running a respectable second place at the time moves in for the lead and becomes the 1990 Daytona 500 winner…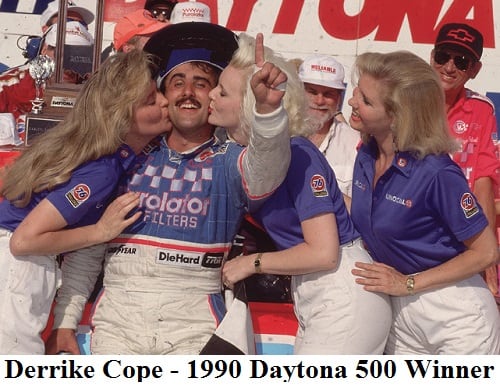 The 1990 Daytona 500 winner is Derrike Cope, it was his first NASCAR win.  He started in 12th and won the show with an average speed of 165.761.  There were only 3 caution flags and 27 lead changes.  The race only took 3 hours to complete.  Terry Labonte finished second, Bill Elliott third and Ricky Rudd took fourth after starting in 19th.  Fun fact: 3 minutes in to this video is an interview with A.J. Foyt – he dropped out and said he was so dizzy and drunk like from the fumes of his new helmet he did not want to endanger anyone.
---
I am proud to bring you this site, after many years of wondering who won the Daytona 500 in a certain year or how many times did Richard Petty win?  I thought I couldn't possibly be the only one that has a need for a site like this.  So I made it.  If you found this site useful, please link to us or mention us on your racing related web site or social media.  Thank you very much.