Cale Yarborough – 1983 Daytona 500 Winner
February 20, 1983 the 25th running of the "Great American Race"
After 7 led changes in the first 10 laps, a pattern that would continue throughout the race. Nobody seemed to have a clear advantage. Cale Yarborough breaks the 200 MPH mark during his first lap of qualifying but crashed and flipped his car on the 2nd lap. He was forced to go to his backup car for the race and the record qualifying attempt was disallowed giving Ricky Rudd the pole with a speed of 198.864 MPH.  1983 Daytona 500 Winner…
Video by: Nascar All Out
 Neil Bonnett was very strong and after 154 laps took the led but not for long.  Out with engine trouble he would head to the pits.  The led pack was down to four.  Ruttman, Baker, Yarborough and Elliott close to them.  It was a tight race all day long, after 59 led changes among 11 drivers. With just 11 laps to go Buddy Baker took the led, the others stayed in the draft waiting for their moment to sling shot to the win.  On the last lap Yarborough with Ruttmann in tow would blast past Baker for the led and the win.  However it was so close among the top 4 cars that Bill Elliot would take second place and Buddy Baker gets third.  What a finish!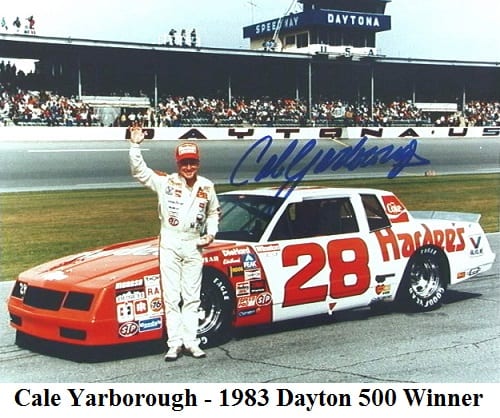 Cale Yarborough competed in 563 NASCAR races and the 25th annual Daytona 500 was just one of the four times he drove a Pontiac.  This was the first win for Pontiac since Fireball Roberts won in 1962.  The 1983 Daytona 500 winner Cale Yarborough, not bad for being in a backup car.
---
I am proud to bring you this site, after many years of wondering who won the Daytona 500 in a certain year or how many times did Richard Petty win?  I thought I couldn't possibly be the only one that has a need for a site like this.  So I made it.  If you found this site useful, please link to us or mention us on your racing related web site or social media.  Thank you very much.