Bobby Allison – 1982 Daytona 500 Winner
February 14, 1982 the 24th running of the "Great American Race"
Benny Parsons started on the pole and Joe Ruttman gave a Happy Valentines to his family with his live in car cam.  Dale Earnhardt started in 10th position and  led for 6 laps early on but blew an engine and finished 36th.  Bobby Allison dominated the last half of the race and became the 1982 Daytona 500 winner for the second time in his career.
Video by: Nascar All Out
Just minutes in to the race three or more cars crashed trying to avoid debris on the track.  It turned out to be the back bumper of Bobby Allison.  That incident started a controversy that still gets hashed over today.  NASCAR officials say it was attached to the car lower than in the stock position, so the crew had to move it up.  Bottom line is the welds didn't hold and the bumper came off.  It did give Allison's car an aerodynamic advantage.  When asked, the crew chief Gary Nelson said they would never do anything like that on purpose. (that's in the video).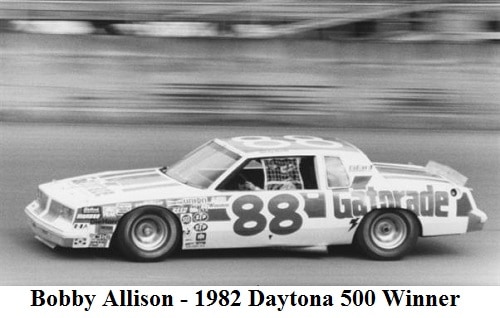 Bobby and Cale might have had a tough 79 Daytona 500 but this one belonged to Bobby Allison.  1982 Daytona 500 winner is becoming one of the greats.  With still more racing to come, Bobby and Donny have made their mark in history.
---
I am proud to bring you this site, after many years of wondering who won the Daytona 500 in a certain year or how many times did Richard Petty win?  I thought I couldn't possibly be the only one that has a need for a site like this.  So I made it.  If you found this site useful, please link to us or mention us on your racing related web site or social media.  Thank you very much.