Richard Petty – 1979 Daytona 500 Winner
February 18, 1979 the 21st running of the Daytona 500 – 1979 Daytona 500 Winner
This was it, the first Daytona 500 that was televised in it's entirety.  Off to a slow start after having rain most the night and the next morning.  The first 15 laps were run under a caution flag to help dry the track.  This 500 was ranked number one of the top ten most memorable Daytona 500 races.  It featured some notable rookies and some historic veterans.  Buddy Baker was one of the favorites after winning the pole position and his 125 qualifying race.
Video by: Nascar All Out
One of the rookies we all know was a young 28 year old Dale Earnhardt and he did led 10 laps of the race and he finished in the 8th position.  Dale's car number was #2.  The best was yet to come.  Another notable rookie was Geoff Bodine who would go on to have a great career.  Fun Fact:  Benny Parsons had the very first live in-car camera in this race…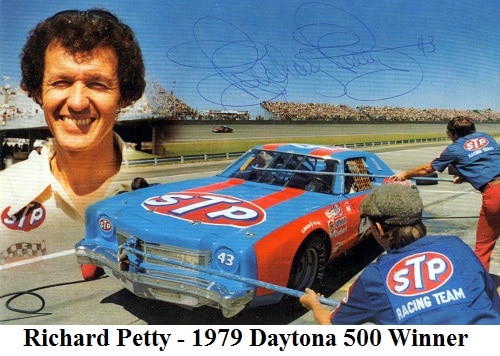 After a win-less streak of 45 races, Richard Petty is the 1979 Daytona 500 winner!  His son and crew member Kyle Petty just 18 years old at the time would go on to race in the NASCAR series like his father and grandfather.  Some say Richard was handed that win because of Donnie Allison and Cale Yarborough crashing on the back stretch but he was running third.  What ever you think of the win it is in the record books… 1979 Daytona 500 winner
---
I am proud to bring you this site, after many years of wondering who won the Daytona 500 in a certain year or how many times did Richard Petty win?  I thought I couldn't possibly be the only one that has a need for a site like this.  So I made it.  If you found this site useful, please link to us or mention us on your racing related web site or social media.  Thank you very much.