Richard Petty – 1973 Daytona 500 Winner
February 18, 1973 the 15th running of the Daytona 500 – 1973 Daytona 500 Winner
It was a very wet start to the fifteenth "Great American Race".  The first 13 laps were run under a caution to help dry the track.  Pole sitter Buddy Baker and Cale Yarborough went at it from the start.  Famous singer Marty Robbins made his Daytona 500 debut but after slamming the wall coming out of turn 4 his day was done.  After 156 laps Cale Yarborough's engine gave up.
Video by:  Nascar All Out
Buddy Baker was in the lead with Richard Petty hot on his tail.  Baker had the faster car but Petty was right there.  After routine pit stops Petty took the lead.  Baker new he could get back around Petty and was heading in just that direction when his engine blew with just 6 laps to go.  Richard just had to hang on for 6 laps and he did to be the 1973 Daytona 500 winner over Bobby Isaac by a record 2 laps, the largest margin of victory ever at Daytona.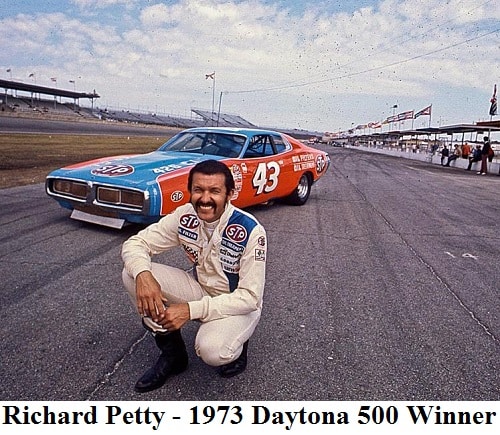 Richard has racing in his blood.  From an early age he has always been competitive.  He recalls a wagon race he and his brother Maurice were involved in, Richard at the age of eight would take every advantage he could.  Just before the race he would smear the wagon axles with as much grease as he could and won the race.  "Racing Lesson Number One: If you can get an advantage, take it."
---
I am proud to bring you this site, after many years of wondering who won the Daytona 500 in a certain year or how many times did Richard Petty win?  I thought I couldn't possibly be the only one that has a need for a site like this.  So I made it.  If you found this site useful, please link to us or mention us on your racing related web site or social media.  Thank you very much.