Cale Yarborough – 1968 Daytona 500 Winner
February 25, 1968 the tenth running of the Daytona 500 – 1968 Daytona 500 Winner
A record number of race fans gathered for the start of the Great American Race.  Over 90,000 in attendance to watch what was to be the fastest Daytona 500 to date.  Cale Yarborough won the pole position with a qualifying speed of 189.222 MPH.  In the video below Cale talks about the incredible G-force put on their bodies.  He mentions how you will have to be in good physical condition just to run and finish this fast race.
Video by: Nascar All Out
The Southern 500 in Darlington is a very special win for Cale.  That's where his racing career started and just a few miles from where he was born and raised also that was the last race on the old track configuration, after that race that he won they changed the track.  Winning that Southern 500 in '68 was one of the best days of his life, he then started getting better and better rides.  He then felt like a national champion.  1968 Daytona 500 Winner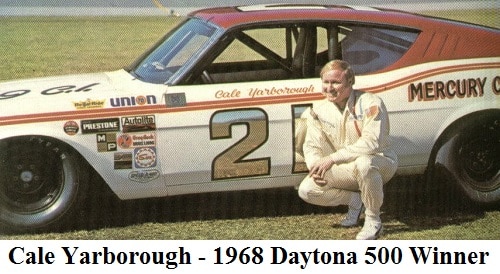 Cale Yarborough was born in the small town of Sardis South Carolina.  He grew up a farm boy.  Not long after his Daddy took him to the local dirt track to watch a race his Dad was tragically killed in a plane crash.  Cale was 11 years old at the time.  Cale's mama had to raise 3 young boys on her own.  He played all the sports he could, very athletic.  However he would never forget that day at the races with his Daddy.  His first race car was a 1939 Ford, he paid $10.
---
I am proud to bring you this site, after many years of wondering who won the Daytona 500 in a certain year or how many times did Richard Petty win?  I thought I couldn't possibly be the only one that has a need for a site like this.  So I made it.  If you found this site useful, please link to us or mention us on your racing related web site or social media.  Thank you very much.