Kurt Busch Wins the 2017 Daytona 500 Wreck Fest
2017 Daytona 500 Winner Kurt Busch
By Kent Whitaker:
The Daytona 500 proved to be one of the stranger season opening races than in years past. There were new rules in play, changes to the cars, amazing story-lines, and more heading into Sunday's race. Kurt Busch proves that staying out of trouble, having a fast car, timing, and a bit more gas than a few other front-runners at the end is all you need to capture the checkered flag.  The 2017 Daytona 500 Winner Kurt Busch…
I watched the race, was happy with the changes in the format for the most part, enjoyed the changes of position, and all that. But… what was up with all the wrecks? Here's how things played out for several Monster Energy NASCAR Cup Series drivers and teams as Kurt Busch wins the 2017 Daytona 500 Wreck Fest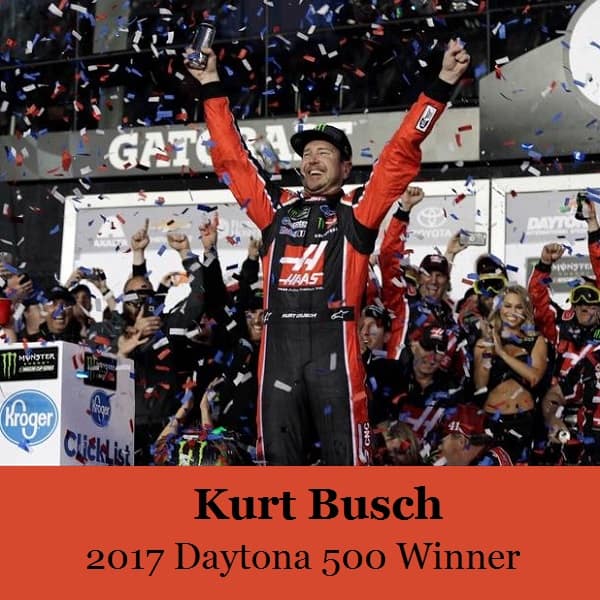 2017 Daytona 500 Winner Kurt Busch:
The 2004 Cup Champion pushed from the number eight starting spot to the Checkered Flag while only leading one lap! If you're going to lead one lap, then the last one is the way to go. Kurt, driver of the No. 41 Haas Automation / Monster Energy Ford, walks away with 48 points and starts Stewart-Haas Racing, and Ford, off with a big win.
Stewart – Haas: Speaking of Stewart-Hass racing – what looked like was going to be a bad day for the team ended up being awesome courtesy of Kurt Busch. The other drivers in the stable did not have such a wonderful day. Kevin Harvick, driver of the No. 4 Jimmy John's Ford, started 5th, led 50 laps, and ended 22nd several laps down. Danica Patrick ran up front after starting in the 10th spot. The driver of the No. 10 Aspen Dental Ford ran great during speedweeks but was wrecked out early of the Great American Race.  2017 Daytona 500 Winner Kurt Busch…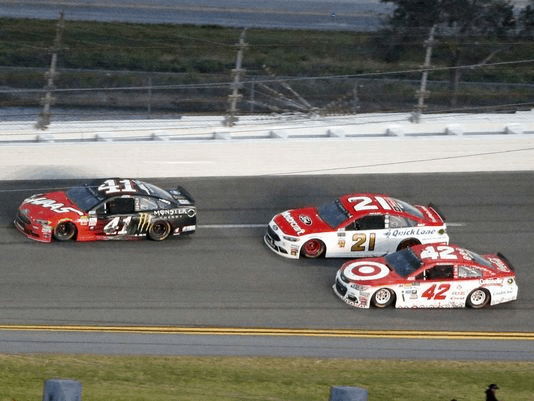 The Earnhardt's:
There were two drivers named Earnhardt for the first time since 2001. Dale Earnhardt Jr and his nephew Jeffery Earnhardt both started the race but neither would finish. Dale Jr, driver of the No. 88 Nationwide Ford was eliminated by Kyle Busch when his No. 18 M&M's Toyota blew a tire. A short time later Jeffery Earnhardt and his No. Starter Chevy, were eliminated in a wreck. Jeffery now leads his uncle Dale in points!
In all, fifteen cars pulled behind the wall and did not finish the 2017 Daytona 500. It was a crazy race but in the end Stewart-Haas Racing and Kurt Busch won the 2017 Daytona 500 Wreck Fest.
>>>>>>>>>>>>>>>>>>>>>>>>>>

"Kent Whitaker, often called 'the Deck Chef' is a sportswriter, culinary writer, and cookbook author with fourteen titles. He covers NASCAR, racing in general, Football, barbecue, grilling, and tailgating. You can visit him on
www.thedeckchef.com
."