Career Chronology: Trevor Bayne 
2008: Trevor Bayne won his first race at Thompson International Speedway.
2009: Trevor Bayne started racing in the Nationwide Series for Michael Waltrip Racing.
2010: Began the NASCAR Sprint Cup series for Wood Brothers Racing.
2011: Won the Daytona 500 at the Daytona International Speedway.
2012: Finished 12th in the Gatorade Duel at Daytona.
2014: Finished 6th in the Budweiser Duel at Daytona.
2015: Finished 7th at Charlotte Motor Speedway for the Sprint Showdown.
Photo Links: Trevor Bayne
https://en.wikipedia.org/wiki/Trevor_Bayne – /media/File:TSM350_-_Trevor_Bayne_-_2015_-_Stierch.jpg
Video Links: Trevor Bayne
http://www.foxsports.com/nascar/video/pocono-raceway-arca-results-trevor-bayne-wins-roush-fenway-racing-060615?/nascar/video/pocono-raceway-arca-results-trevor-bayne-wins-roush-fenway-racing
Career Highlights: Trevor Bayne
When he was just eight years old, he was in the Allison Legacy Race Series, where he became the youngest top rookie. The next year, he won the series' National Champion.
He raced go-karts for eight years, and he recorded 3 World Championships with 18 total State and Track Championships.
In 2009, he took Sunoco Rookie of the Race honors after participating in the Toyota All-Star Showdown at Irwindale Speedway.
He is the youngest driver to have won the Daytona 500 (in 2011) at the age of 20 years and 1 day.
Biography: Trevor Bayne
Born in Knoxville, Tennessee in 1991, Trevor Bayne began his driving career at the early age of five racing go karts. By ten years old he was racing in the USAR Hooters Pro Cup Series Southern Division. In 2008, he was in the NASCAR Camping World East Series under contract with Dale Earnhardt, Inc. He started racing the NASCAR Sprint Cup series for the Wood Brothers in 2010. Then, in 2011, he moved to Roush Fenway Racing, driving for Wood Brothers Racing. He won the first race of the season in the 2011 Daytona 500 while on that team, becoming the youngest driver to ever win the race at 20 years old. He is currently competing full-time in the NASCAR Sprint Cup Series with the No. 6 Ford Fusion for Roush Fenway Racing.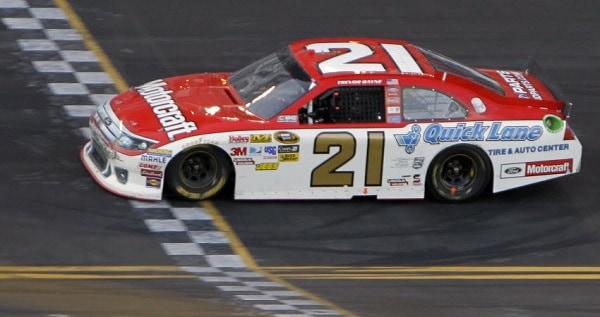 I am proud to bring you this site, after many years of wondering who won the Daytona 500 in a certain year or how many times did Richard Petty win?  I thought I couldn't possibly be the only one that has a need for a site like this.  So I made it.  If you found this site useful, please link to us or mention us on your racing related web site or social media.  Thank you very much.