Career Chronology: Tiny Lund 
1955: Made his NASCAR debut in a Ruppert Safety Belt Co. sponsored car.
1963: Won the Daytona 500 with just enough gas to get him over the line.
1965: Won the Grand Nationals in Columbia, South Carolina.
1967: Won the Grand Nationals at the Beltsville Speedway.
1971: Wins the NASCAR Winston cups twice.
1971: After a fiery crash, Lund dies on the Talladega 500 track.
1994: Inducted into the International Motorsports Hall of Fame.
1998: Selected as one of NASCAR's 50 Greatest Drivers.
Tiny Lund
Photo Links:
http://www.tinylund.com/wpimages/wp45b0f753_05.jpg
Video Links:
https://www.youtube.com/watch?v=6KQR8alWnGA
Career Highlights: Tiny Lund
Tiny Lund started racing motorcycles at 15, and also drove several midget cars, but then moved on to driving a stock car in his twenties.
Began racing in 1955 in a car sponsored race for a seatbelt company, but he crashed and the seatbelt broke, causing semi-serious injuries.
Won the 1963 Daytona 500 with a freak finish, as his car ran out of gas on the final lap and drifted just barely making it to the finish line.
Entered the Talladega 500 in 1971 and was the victim of a fiery crash, where he passed away at the site from his substantial injuries.
Biography: Tiny Lund
Born in 1929, DeWayne Louis "Tiny" Lund started racing on motorcycles, then midget cars and sprint cars. He earned his nickname from his large and imposing size as an adult, standing at 6' 6" and weighing around 300 pounds. Lund decided to start professionally racing stock cars in his twenties, and made his NASCAR debut in 1955 in a car sponsored by a seat belt company. Unfortunately, the car flipped on the track, the seatbelt broke, and he suffered a broken arm.
Lund raced for Gus Holzmueller, A.L. Bumgarner, and Petty Enterprises during his early career, and became a journeyman in 1958. After some lack of success, he lost his ride in 1963. At the 1963 Daytona, he helped to save Marvin Panch from a fiery crash. Afterwards, he was awarded the Carnegie Hero's Medal and Panch offered Lund his car to race, to which he agreed. In the 1963 Daytona 500, Lund ran out of gas on the final lap, but was still able to coast through the finish line for a victory. That win put him back on the racing map, and he drove with Wood Brothers Ford for several years, almost claiming another win. When Panch returned, however, Lund was then carless once again.
After several more changes and close wins, Lund finally achieved career victory again at the 1965 Columbia 200. His relationship with Lyle Stelter continued for several years without very much success. Lund's greatest successes were with Petty Enterprises, where he finished fourth in the Daytona 500 and the World 600 in 1967. Going forward, Lund's career blossomed again with Grand American championships in 1970 and 1971, and two victories at Grand National events in 1971.  After that year, as his racing career began to decline, he moved to the Grand National East Division and short track. In the 1975 Talladega 500, Lund and J.D. McDuffie crashed and created havoc on the track, where Terry Link smashed into Lund's car and it burst in flames. Link was pulled to safety, but Lund was unfortunately pronounced dead at the scene. He was inducted into the International Motorsport Hall of Fame in 1994 and one of NASCAR's 50 Greatest Drivers in 1998. Tiny Lund!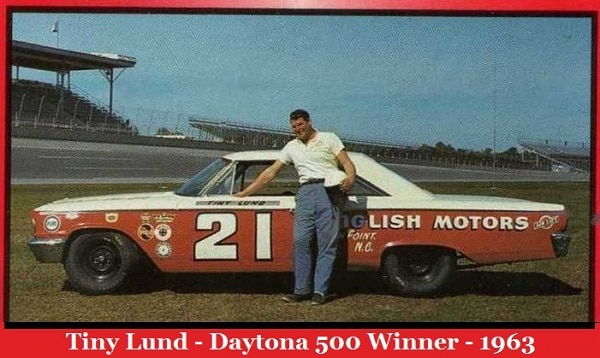 I am proud to bring you this site, after many years of wondering who won the Daytona 500 in a certain year or how many times did Richard Petty win?  I thought I couldn't possibly be the only one that has a need for a site like this.  So I made it.  If you found this site useful, please link to us or mention us on your racing related web site or social media.  Thank you very much.