Dale Earnhardt Movie
The 2004 Dale Earnhardt movie.  Learn more about one of the most famous racing legends presented in this film starring Barry Pepper as Dale Earnhardt and JK Simmons as Ralph Earnhardt. The film basically shows Dale's rough start as a wanna-be racing champion (like his inspirational father) and how racing provides him with extreme thrills, challenges and conflicts in his personal and public life; culminating in his death on the final lap in the 2001 Daytona 500. What I liked and admired about this story was the in-depth look at the more intimate, personal life of Earnhardt and what life was like for him growing up with his father and his racing future.
While Pepper no doubt draws all the main focus as the star, I especially found JK Simmons to be truly outstanding as Earnhardt's father. This was more about working your way through life's hardships than just racing and driving; it was about seeing the man's life and who/what he had to deal with to become the champion everyone knew and loved. The child actors playing Earnhardt's children were also surprisingly good and the inside look into this racing family's back-story offered plenty of insight for those who always wanted to learn how this racing legend started.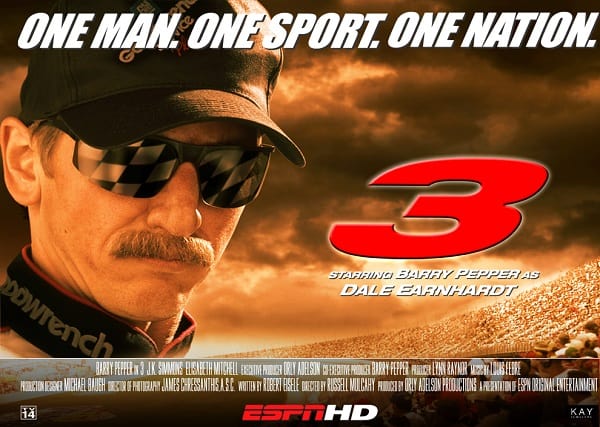 Admittedly, this is still a TV movie and while it is good; it's obvious there could be potential for something a lot better and better produced to come out of this. Overall, this is a well-acted, emotionally driven decent film that inspired me with more delight than disappointment.
I am proud to bring you this site, after many years of wondering who won the Daytona 500 in a certain year or how many times did Richard Petty win?  I thought I couldn't possibly be the only one that has a need for a site like this.  So I made it.  If you found this site useful, please link to us or mention us on your racing related web site or social media.  Thank you very much.