Career Chronology: Marvin Panch 
1953: Began his career at NASCAR.
1956: Wins his first NASCAR race at Montgomery Speedway.
1966: Claims his final victory at the World 600 for Petty Enterprises.
1966: Retires from stock-car racing.
1987: Inducted into National Motorsports Press Association Hall of Fame.
1998: Selected as one of NASCAR's 50 Greatest Drivers.
2002: Inducted into the West Coast Stock Car Hall of Fame.
Photo Links:
http://www.marvinpanch.com/images/corner.JPG
Video Links:
https://www.youtube.com/watch?v=m7VrygkrD1c
Career Highlights:
Marvin Panch began as a car owner, but soon found his calling for racing after being a fill-in when his driver did not show. Drove his first official NASCAR race in 1953.
Started pole position and dominated the race for his first victory at the Montgomery Speedway in 1956.
Hired by Lee Petty to race for Petty Enterprises during the 1966 World 600, where he won the race for his final career victory.
He announced his retirement after the National 500 at Charlotte in 1966.
Biography:
Marvin Panch was born in historic Menomonie, Wisconsin in 1926. He began his racing life as a car owner in California, but soon got a taste for driving after stepping in for a no-show driver in 1949. After catching some attention, he began his official NASCAR career in 1953 with an East Coast race at Darlington Raceway. Even though he finished 28th, Lee Petty took an interest in him and offered him his car for the following year's race. From there, his impressive finishes quickly began to turn more than a few heads, and his racing career and sponsorship took off, ultimately catching the gaze of Pete DePaolo who hired Panch onto his factory Ford team in 1956. Panch accumulated eight wins and thirty top-three finishes during his time with the team.
Unfortunately, as the Ford team faced difficulties with NASCAR and declined, so did the career highlights of Marvin Panch. Though he attained several more victories after Ford, he entered the races less and less due to monetary constraints. In 1966, Lee Petty offered Panch a year old car for the World 600 race, where he won his final career victory. That same year, Panch announced his official retirement. He was first recognized for his career efforts in 1987 by being inducted into the National Motorsports Press Association Hall of Fame. In 1998, NASCAR named him one of their 50 Greatest Drivers, though he has yet to be officially inducted into the International Motorsports Hall of Fame.  Marvin Panch, one of the best!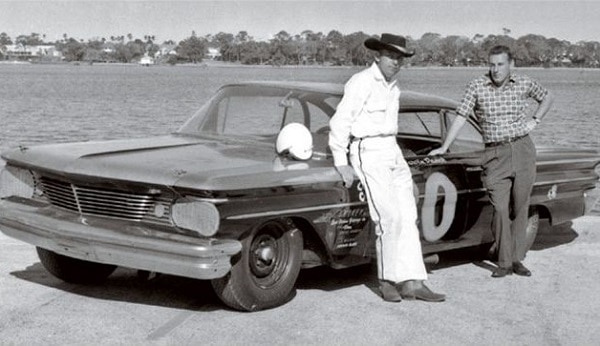 I am proud to bring you this site, after many years of wondering who won the Daytona 500 in a certain year or how many times did Richard Petty win?  I thought I couldn't possibly be the only one that has a need for a site like this.  So I made it.  If you found this site useful, please link to us or mention us on your racing related web site or social media.  Thank you very much.