Career Chronology: Mario Andretti 
1959: Started racing dirt tracks in Nazareth.
1965: Begins competing in USAC stock cars.
1967: Started racing NASCAR and wins the Daytona 500 for Holman Moody.
1969: Dominates the Indy Car season and wins the Indianapolis 500.
1971: Wins his first Formula One Grand Prix race.
1978: Becomes the Formula One World Champion.
1979: Wins the International Race of Champions title.
1994: Officially retires from active driving.
1996: Inducted into the National Sprint Car Hall of Fame.
2001: Inducted into the Motorsports Hall of Fame of America.
Photo Links: Mario Andretti
https://upload.wikimedia.org/wikipedia/commons/3/31/MarioAndretti.jpg
Video Links: Mario Andretti
https://www.youtube.com/watch?v=_8pZEpBnwwc
Career Highlights:
He became a NASCAR driver, and joined the Holman-Moody team for ten of his fourteen races, and went on to win the Daytona 500 in 1967.
He won the Indianapolis 500 three times ( 1966, 1967, 1987) and was the all-time leader in Indy Car race starts and pole positions won.
He remains the only American driver to have won the Formula One World Championship, taking the title in 1978.
He is the only driver to have been named United States Driver of the Year in three decades (1967, 1978, 1984).
Biography:
Mario Gabriele Andretti is an extremely successful and world-renowned champion racecar driver, and the only driver to win the Indianapolis 500, Daytona 500, and the Formula One during his career. There hasn't been an American winner in the Formula One world championship races since his victory in 1978.
He was born in annexed Italy (now Croatia) in 1940, and came to the United States with his family in 1955. He and his twin brother Aldo grew up with a love for racing, and it translated quickly into his career. Both boys started racing on dirt tracks in 1959, but his brother suffered a serious injury at the end of the season, much to their parents' disapproval. Mario went on despite the contention to expand his racing career, and soon began competing and wining in USAC stock cars.
Mario Andretti competed in fourteen major NASCAR events, the final ten being with the largely successful Holman Moody team, winning the Daytona 500 with them in 1967. He had a long career in the Formula One industry, with his first Grand Prix win in 1971. His Indy Car career was also quite fruitful, winning the season championship and Indianapolis 500 race in 1969. He was also invited to race in the International Race of Champions (IROC) series, where he consistently finished in top placement and won three of the twenty races. There were many facets to his racing career and his success in the field. In total, he scored 109 career wins while on major circuits. With his long and successful career, and as the only person to be named United States Driver of the Year in three different decades, Mario Andretti is a true American racing hero.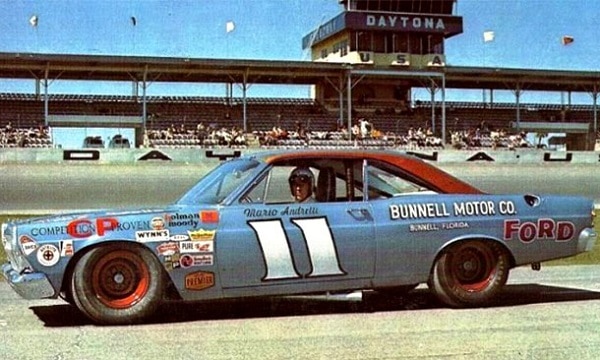 I am proud to bring you this site, after many years of wondering who won the Daytona 500 in a certain year or how many times did Richard Petty win?  I thought I couldn't possibly be the only one that has a need for a site like this.  So I made it.  If you found this site useful, please link to us or mention us on your racing related web site or social media.  Thank you very much.