Career Chronology: Junior Johnson
1955: Began his career at NASCAR.
1959: Wins pole position at the Hickory 250 NASCAR Grand National Series.
1960: Wins his first 'super speedway' at the Daytona 500.
1966: Retires from stock-car racing.
1991: Inducted into the Motorsports Hall of Fame of America.
1998: Selected as one of NASCAR's 50 Greatest Drivers.
2010: Inducted into the NASCAR Hall of Fame.
Photo Links: https://en.wikipedia.org/wiki/Junior_Johnson#/media/File:JuniorJohnson1985.jpg
Video Links:
https://www.youtube.com/watch?v=yXE6re6ZHjA
Career Highlights:
Began racing in 1955, and had a long winning streak of six races in 1958.
In 1960, he entered the Daytona 500, where he refined the "drafting" move.
Crashes at the World 600 in 1963 after having a sustained two-lap lead, when a bottle is thrown onto the track from the stands.
The last race for Johnson was at Rockingham Speedway where he finished in fifth place, marking his 313th race, of which 121 were finished in the top 5.
At the time of his retirement in 1966, Junior Johnson had accumulated 50 official NASCAR wins, at that time becoming the only driver with the most wins to not have a championship title.
Biography:
Robert Glenn Johnson, Jr. was more famously known as 'Junior Johnson,' and he thrived as an early American stock car driver in the 1950's and 1960's. Junior was born in 1931 in Wilkes County, North Carolina, as the fourth child of a family of seven, and son to a prominent bootlegger. His father spent many days behind bars, and special agents regularly raided their home, making for a raucous childhood.
In his teens, Junior took up running moonshine, and evading the law in high-speed chase. He was a natural at handling the car and controlling it with precision during fast speeds. The Perhaps known as his most famous move, he started the 180-degree "Bootleg Turn," where the driver brakes and spins the car in a U-turn to face the exact opposite direction as the pursuer, and to then quickly drive past them while in their confusion to escape. He was eventually caught early in his racing career, though not behind the wheel, and faced 11 months in jail.
In 1955, Junior Johnson began his career at NASCAR, going on to claim 50 victories as a professional driver. His first "super speedway" win was at the Daytona 500 in 1960, where he refined the "drafting" technique. After retiring in 1966, he went on to become a successful NASCAR racing team owner, sponsoring many different champions throughout the 1970's and 1980's.
Ronald Reagan famously granted Johnson a pardon, and restored his civil rights in 1986, after naming him "The Last American Hero." Later in 2007, Johnson created a new facet to his family's moonshine legacy with Midnight Moon Moonshine in the only legal distillery in North Carolina, where he still resides today.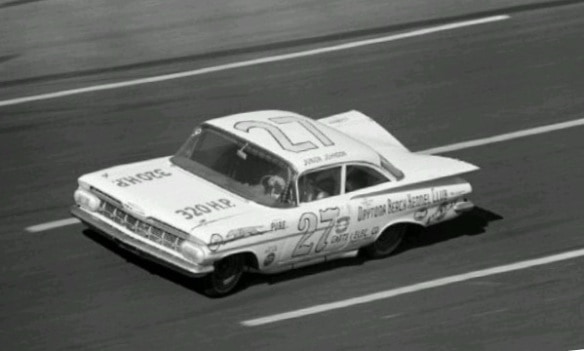 I am proud to bring you this site, after many years of wondering who won the Daytona 500 in a certain year or how many times did Richard Petty win?  I thought I couldn't possibly be the only one that has a need for a site like this.  So I made it.  If you found this site useful, please link to us or mention us on your racing related web site or social media.  Thank you very much.