Career Chronology: Jimmie Johnson 
1998: Jimmie Johnson started his career racing stock cars.
2002: Scored his first career win at the NAPA Auto Parts 500.
2003: Won three races, including the Coca Cola 600.
2005: Won four team Lowe's sponsored races.
2006: Won his first Daytona 500 and first Winston Cup Championship.
2007: Won his second Winston Cup Championship.
2008: Won his third Winston Cup Championship.
2009: Won his fourth Winston Cup Championship.
2010: Won his fifth consecutive Winston Cup Championship.
2013: Won his second Daytona 500.
Jimmie Johnson
Photo Links: Jimmie Johnson
https://en.wikipedia.org/wiki/Jimmie_Johnson#/media/File:Jimmie_Johnson_at_the_Daytona_500.JPG
Video Links: Jimmie Johnson
http://www.nascar.com/en_us/news-media/articles/2015/10/2/jimmie-johnson-retirement-talk-tony-stewart-jeff-gordon.html
Career Highlights: Jimmie Johnson
After high school, he raced in Mickey Thompson Entertainment Group, Short-course Off-road Drivers Association and SCORE International, winning rookie of the year in each series.
During 2003, Johnson finished ninth on the all-time list for consecutive weeks ranked in the Top 10 in points with 69.
He won the Cup championship in 2006, and he continued to win each year after, becoming the first and only driver to win five times consecutively.
In 2013, Johnson won his sixth championship, one fewer than Richard Petty and Dale Earnhardt who both have the record for the most championships at seven.
Biography: Jimmie Johnson
Jimmie Johnson a six-time champion NASCAR Sprint Cup Series driver,  currently drives the 48 Chevrolet for Hendrick Motorsports. Born in El Cajon, California in 1975, he started his love of racing on motorcycles at the young age of four. After high school he began competing in off-road racing. In 1998 he began stock car racing, in 2000 he started the Busch Series, and in 2002 he moved to Hendrick Motorsports when he began racing full-time in the Winston Cup Series. In his 13th career start, Johnson scored his first career win in the NAPA Auto Parts 500 at Auto Club Speedway. His first championship win came in 2006, and he continued to accumulate wins each year after, becoming the first and only driver to win five times consecutively. His sixth championship was in 2013, making him second to Richard Petty and Dale Earnhardt in total championship wins. Johnson also won the Daytona 500 two times, his first being in 2006 and his second in 2013. He has had 75 career wins, 312 Top 10 finishes, and 34 pole positions. Jimmie Johnson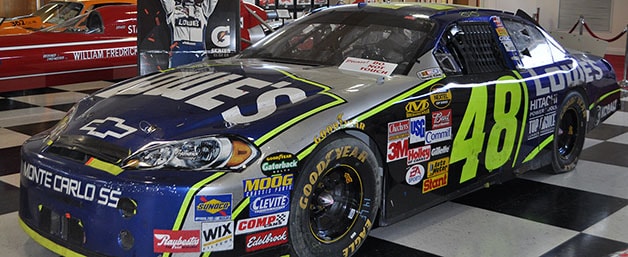 I am proud to bring you this site, after many years of wondering who won the Daytona 500 in a certain year or how many times did Richard Petty win?  I thought I couldn't possibly be the only one that has a need for a site like this.  So I made it.  If you found this site useful, please link to us or mention us on your racing related web site or social media.  Thank you very much.