Career Chronology: Jeff Gordon
1986: Began racing sprint cars.
1990: Started in his first Busch series race.
1991: Won the USAC Silver Crown.
1994: Won the Busch Clash exhibition race at Daytona.
1995: Won his first Cup Series championship.
1997: Won the Daytona 500 and his second Winston Cup.
1998: Named one of NASCAR's 50 Greatest Drivers.
1999: Won his second Daytona 500.
2000: Took his 50th career victory at Talladega.
2005: Won his third Daytona 500 race.
2015: Announced his last season as a full-time driver.
Photo Links: Jeff Gordon
https://en.wikipedia.org/wiki/Jeff_Gordon#/media/File:Jeff_Gordon_wins_Phoenix_-_February_27,_2011_cropped.jpg
Video Links: Jeff Gordon
http://www.nascar.com/en_us/news-media/articles/2015/1/22/jeff-gordon-2015-final-season-hendrick-motorsports.html
Career Highlights: Jeff Gordon
His family moved to Indiana when he was just sixteen years old, so he could start his professional racing career early on.
During his first year as a Busch driver, he won the Rookie of the Year title.
Jeff Gordon is third on the all-time Cup wins list, with only Richard Petty and Dale Earnhardt ahead.
He is the active iron man leader for consecutive races participated in with 797 through the 2015 season.
In the 2009 season, Gordon became the first driver in NASCAR history to pass $100 million in career winnings.
Biography: Jeff Gordon
As one of the all-time leaders in NASCAR victories, Jeff Gordon is a name known to everyone, racing enthusiasts and everyday spectators alike. Born in 1971 in Vallejo, California, he began competitive racing at age five in a quarter midget competition. He won the national quarter midget championship by age eight. In 1986, Gordon began racing sprint cars, and he won three races. He was awarded a USAC license at age 16, the youngest driver to have done so. Shortly after, his family moved from California to Indiana, where there were more opportunities for younger racers. Before the age of 18, he had already won three short-track races and took USAC Midget Car Racing Rookie of the Year in 1989.
Gordon started his professional NASCAR career with his first official Busch race on October 20, 1990 at the North Carolina Motor Speedway in the AC-Delco 200. In 1991, Gordon captured the USAC Silver Crown, and at the age of 20 became the youngest driver to win the season championship. The following year, Gordon made his Winston Cup debut in the season-ending race, the Hooters 500 at Atlanta, and he took four Series Cup championships after joining NASCAR's top circuit. His growing popularity helped to expand the sport's attraction to a mainstream audience. By the time he won his first Daytona 500 race in 1997, he was the youngest driver at the time to ever win the race, and he finished the season with 10 victories. In the later years after 2008, Gordon struggled to regain the edge in his racing career, though he still went on earning many respectable wins on various circuits.
He drove the Number 24 Chevrolet SS for Hendrick Motorsports in 23 full-time seasons in the NASCAR Sprint Cup Series. He took the Sprint Cup champion title three times, in 1995, 1997, 1998, and 2001. He won the Daytona 500 three times in 1997, 1999, and 2005. Jeff Gordon is third on the all-time Cup wins list, with 93 victories, 320 top-five finishes, and 454 top-ten finishes during the span of his NASCAR career. Along with Rick Hendrick, Gordon co-owns the No. 48 Chevrolet driven by Jimmie Johnson, winning six championships from 2006 to 2010 and again in 2013. He currently resides in Charlotte, North Carolina, with his wife, Ingrid and their two children. He officially declared his retirement from full-time racing in 2015, and he is a current announcer for Fox NASCAR.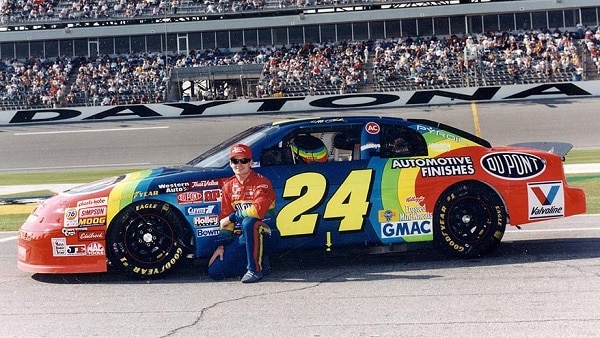 I am proud to bring you this site, after many years of wondering who won the Daytona 500 in a certain year or how many times did Richard Petty win?  I thought I couldn't possibly be the only one that has a need for a site like this.  So I made it.  If you found this site useful, please link to us or mention us on your racing related web site or social media.  Thank you very much.