Career Chronology: Davey Allison 
1979: Started his racing career at Birmingham.
1987: Won two Winston Cup events.
1988: Took second place after his father in the Daytona 500.
1989: Won at Talladega and the Pepsi 400.
1991: Won the Coca Cola 600 and at Sears Point.
1992: Won the Daytona 500.
1993: Won at the Richmond International Raceway.
Photo Links: Davey Allison
https://en.wikipedia.org/wiki/Davey_Allison#/media/File:DaveyAllisonPocono.jpg
Video Links: Davey Allison
https://www.youtube.com/watch?v=E15v5N2BYEA
Career Highlights: Davey Allison
He began his career in 1979, and by 1983, he was racing in theAutomobile Racing Club of America (ARCA) series.
Allison continued racing in the ARCA and in 1985 took eight races in the series, with four wins atTalladega Superspeedway.
He was the first rookie sinceRon Bouchard to win a Winston Cup event, and the only rookie to win two Winston Cup
In his unfortunately short-lived NASCARWinston Cup career, he posted a remarkable total of 19 wins, 66 top-fives and 92 top-ten finishes
Biography: Davey Allison
David Carl Allison, more famously known as Davey Allison, was a successful and promising NASCAR driver. He followed in the footsteps of his father, Bobby Allison, and took to the racing track and developed a love of cars at an early age. He began racing after graduating from high school, and went on to great success. Along with his brother, Donnie Allison, and family friends Red Farmer and Neil Bonnett, they were known as the Alabama Gang.
Though his time was unfortunately short-lived, his mark on the racing track is widespread. He began his career in 1979 at the Birmingham International Raceway, and his first win came rapidly after only his sixth start. He won several events at the ARCA and took the Rookie of the Year title in 1984. The following year, he began competing in the NASCAR lower division races, and made his Winston Cup debut in the Talladega 500. In the 1988 Daytona 500, Davey raced alongside his father and took second place to his father's third victory in the event. In 1991 his career was on a positive run, with victories at the Coca Cola 600 and the Sears Point International Raceway, climbing into fifth place in the Winston Cup standings.
He made new heights in his career when he took the win at the Daytona 500 in 1992. By 1993, he was looking at a highly promising standing in the series, when an unfortunate tragedy ended it all. After a helicopter accident, in which he was piloting, he suffered great head trauma and succumbed to his injuries shortly after. During his short-lived NASCAR Winston Cup career, Davey Allison posted an impressive total of 19 wins, 66 top-fives and 92 top-tens.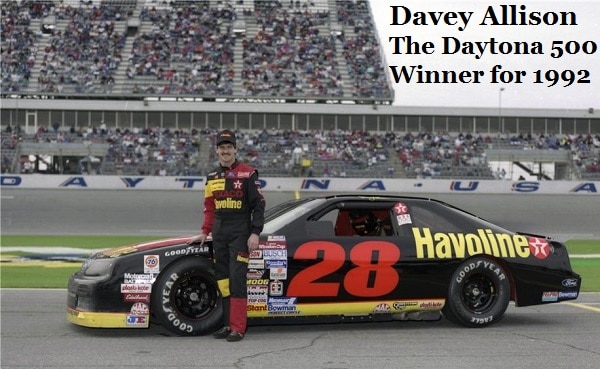 I am proud to bring you this site, after many years of wondering who won the Daytona 500 in a certain year or how many times did Richard Petty win?  I thought I couldn't possibly be the only one that has a need for a site like this.  So I made it.  If you found this site useful, please link to us or mention us on your racing related web site or social media.  Thank you very much.