Career Chronology: Darrike Cope 
1982: Made his NASCAR debut at Riverside International Speedway.
1989: Signed with the Whitcomb racing team, with four top-tens.
1990: Won the Daytona 500 over Dale Earnhardt.
1990: Won the Budweiser 500 at Dover.
1995: Eight Top-10 finishes, and finished 15th-place in points.
2001: Formed Quest Motor Racing with Warren Johnson.
2003: Best finish with the 20th spot at Daytona.
2006: Took 34th at Michigan International Speedway.
Photo Links: Darrike Cope
https://en.wikipedia.org/wiki/Derrike_Cope#/media/File:Derrike_Cope_2014_Gardner_Denver_200_at_Road_America.jpg
Video Links: Darrike Cope
https://www.youtube.com/watch?v=0OdW-VXgMl4
Career Highlights:
He made his Winston (Sprint) Cup racing debut at the Riverside International Speedway in 1982.
The 1995 racing season was his most consistent, with eight top-10 finishes, and a 15th-place finish in overall points.
Cope won his first career pole position atLowe's Motor Speedway.
In2001, Cope announced the formation of Quest Motor Racing, a team he would co-own with drag racer Warren Johnson.
Biography:
Born in 1958, Darrike Cope is a professional stock car driver from Spanaway, Washington. He ran short tracks in the Northwest and eventually earned his way up the ranks. His Winston Cup debut was at Riverside International Speedway in 1982. In 1989, he signed with Bob Whitcomb and posted four top-tens while on his team. He is perhaps most noted for his first win at the Daytona 500 in 1990, beating out Dale Earnhardt when his tire blew on the final lap. He also won the Budweiser 500 in Dover that same year as well as earned two top-fives. After the 1992 season, and the demise of the Whitcomb team, he raced with several different car owners. In 2001, Cope and Warren Johnsons announced the formation of a new team, Quest Motor Racing, and they enjoyed some mild success. He currently drives No. 70 for his own racing team, Derrike Cope Racing.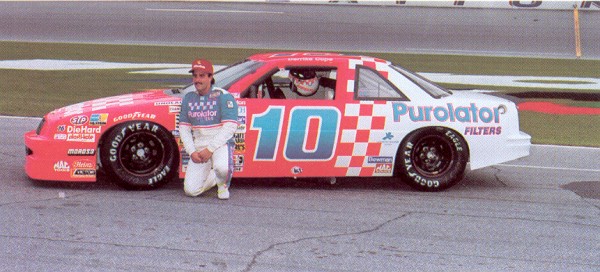 I am proud to bring you this site, after many years of wondering who won the Daytona 500 in a certain year or how many times did Richard Petty win?  I thought I couldn't possibly be the only one that has a need for a site like this.  So I made it.  If you found this site useful, please link to us or mention us on your racing related web site or social media.  Thank you very much.