Career Chronology: Dale Jarrett 
1977: Started racing at Hickory Motor Speedway.
1984: Debut race at the Winston Cup
1991: Won his first career race at Michigan Speedway.
1993: Won the Daytona 500.
1996: Won his second Daytona 500 race.
1999: Won the Winston Cup title.
2000: Won his third Daytona 500.
2008: Retired from points racing.
2014: Inducted into the NASCAR Hall of Fame.
Photo Links: Dale Jarrett
https://en.wikipedia.org/wiki/Dale_Jarrett#/media/File:Dale_Jarrett.jpg
Video Links: Dale Jarrett
http://www.nascar.com/en_us/news-media/articles/2014/1/28/nascar-hall-of-fame-dale-jarrett-inductee.html
Career Highlights: Dale Jarrett
Jarrett began racing in 1977 atHickory Motor Speedway, a track his father owned and operated.
In 1991, Jarrett won his first career Winston Cup race atMichigan International Speedway, and had a career-best finish of 17th.
In 1996, Jarrett won theDaytona 500 for a second time, and finished in the Top 2 of the first three races in the season.
He won three races in 1998, finishing second in the last two races of the year, and third in the final point standings.
Biography: Dale Jarrett
As an accomplished former racecar driver, Dale Arnold Jarrett won the Daytona 500 three times, in 1993, 1996, and in 2000. Born in Conover, North Carolina, He began racing in 1977 at Hickory Motor Speedway. He started racing for Horace Isenhower in 1982, and soon after made his Winston Cup debut in 1984. His first career win was at the Orange County Speedway, and his second at Hickory during his full-time season in Busch. The majority of his success in the series was during the 1990 and 1991 seasons. In 1993, he won his first Daytona 500 over Dale Earnhardt. He signed with Robert Yates in 1995 and won at Pocono Raceway, finishing 13 in the final standings. Following his Winston Cup title in 1999, Jarrett won the Daytona 500 for the third time in 2000. In 2003, he started the season with a win at North Carolina Speedway. His last career NASCAR Cup series win was at Talladega Superspeedway, finishing 15th in the standings. During the 2006 season, Jarrett had four Top 10 finishes, with a best finish of 4th at Kansas. His best starting position was 2nd and he finished 23rd in points. In 2008, after retiring from driving, he joined ESPN as the lead racing analyst. He was inducted into the NASCAR Hall of Fame in 2014.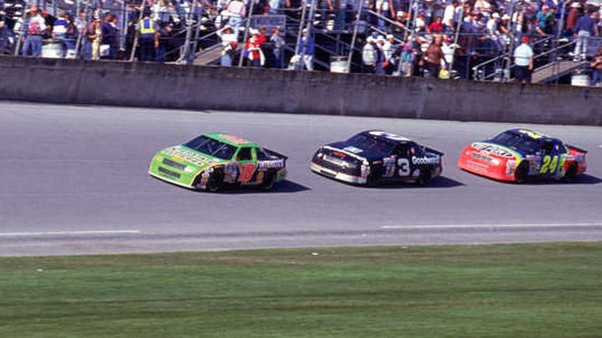 I am proud to bring you this site, after many years of wondering who won the Daytona 500 in a certain year or how many times did Richard Petty win?  I thought I couldn't possibly be the only one that has a need for a site like this.  So I made it.  If you found this site useful, please link to us or mention us on your racing related web site or social media.  Thank you very much.