Career Chronology: Dale Earnhardt Jr. 
1996: Started racing in the Busch Series for Dale Earnhardt, Inc.
1994: Took the pole at Greenville Merchants 300.
1998: Won the Busch Series Championship.
1999: Won his second Busch Series Championship.
2000: Started racing full-time in the Winston Cup series.
2001: Won the Pepsi 400 and the EA Sports 500 races.
2004: Won his first Daytona 500 race.
2006: Won the Crown Royal 400.
2012: Took the win in the Sprint Showdown.
2014: Won his second Daytona 500.
Photo Links: Dale Earnhardt Jr.
https://en.wikipedia.org/wiki/Dale_Earnhardt,_Jr.#/media/File:Daleearnhardtjr.jpg
Video Links:
http://www.nascar.com/en_us/news-media/articles/nascar-illustrated/2014/6/nascar-illustrated-growing-up-dale-earnhardt-jr-kelley-earnhardt-miller-dale-earnhardt.html
Career Highlights: Dale Earnhardt Jr.
His first racecar was a 1979 Monte Carlo that he co-owned with his older half-brother, Kerry Earnhardt.
He ran nine Busch Series races between 1996 and 1997 for Dale Earnhardt, Inc., and Ed Whitaker, respectively, before driving for his father's team in the Busch Series full-time in 1998.
In 1998 he made his first start in the Winston Cup Series, at the exhibition race held in Motegi, Japan.
He has won the Most Popular Driver Award twelve times in his career, consecutively from 2003–2014.
Biography: Dale Earnhardt Jr.
Ralph Dale Earnhardt Jr. is the son of renowned NASCAR driver Dale Earnhardt, born in North Carolina on October 10, 1974. He is a professional American racecar driver and champion team owner. He comes from a large family of racing influences, and began to follow his own driving dreams at seventeen, competing alongside his father in the Street Stock division at Concord. He also developed an in-depth knowledge of car maintenance, while he worked at his father's dealership as a mechanic, and he went on to community college to earn an associate degree in automotive technology.
In 1998, he started his full-time season in the Winston Cup, having a blow over with Dick Trickle and Buckshot Jones at Daytona, on the same weekend that his father had his first and only Daytona 500 win. He won the Busch Series Championship in 1998 and again in 1999. In 2004, he won the Daytona 500 after just his fifth attempt, three years after his father was killed in the 2001 race. Earnhardt came very close to sweeping Speedweeks, in addition to the Daytona 500, and he also won his Gatorade Duel and the Busch Series race. He is a two-time Daytona 500 winner (winning again in 2014), and he won the Most Popular Driver Award twelve times, consecutively from 2003–2014. He drives the No. 88 Chevrolet SS in the NASCAR Sprint Cup Series for Hendrick Motorsports, and he drives the No. 88 Chevrolet Camaro for his own team, JR Motorsports, in the Xfinity Series.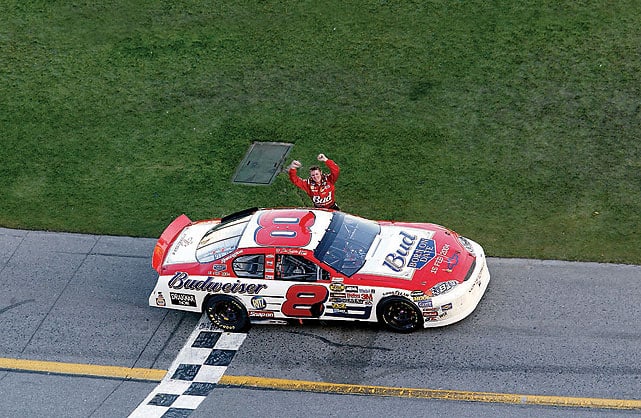 I am proud to bring you this site, after many years of wondering who won the Daytona 500 in a certain year or how many times did Richard Petty win?  I thought I couldn't possibly be the only one that has a need for a site like this.  So I made it.  If you found this site useful, please link to us or mention us on your racing related web site or social media.  Thank you very much.