Career Chronology: Cale Yarborough
1957: Made his official driving debut at the Southern 500.
1966: Began racing at the Indianapolis 500.
1967: Won at the Atlanta 500 and the Firecracker 400.
1968: Won the Daytona 500 for the first time.
1977: Won his second Daytona 500 race.
1993: Inducted into the International Motorsports Hall of Fame.
1994: Inducted into the Motorsports Hall of Fame of America.
1998: Named one of NASCAR's 50 Greatest Drivers.
Photo Links:
https://en.wikipedia.org/wiki/Cale_Yarborough#/media/File:CaleYarborough.jpg
Video Links:
https://www.youtube.com/watch?v=PQcMNh2MaAI
Career Highlights: Cale Yarborough 
He made his first attempt to race as a teenager, lying to NASCAR about his age, but was found out and disqualified.
His first Daytona 500 victory was won over a duel with Lee Roy Yarbrough, while driving for the Wood Brothers in 1968.
After his second Daytona 500 victory, he became the second driver in history to be featured on the cover of Sports Illustrated.
In his final season in 1988, he entered ten races with two ninth-place finishes, ending a long and successful racing career on a high.
Biography:
Cale Yarborough was born in Timmonsville, South Carolina in 1939. His father was a tobacco farmer who was killed during a private plane crash when Cale was just 10 years old. He was raised by his mother and grew up farming. He was very fit and played many sports, namely football, throughout his childhood and teenage years, but soon became hooked by racing. He attempted his first race at NASCAR as a teenager by lying about his age, but was found out and disqualified.  He returned in 1957 for his official start as a driver for the Southern 500, finishing 42nd. After several years on the circuit, his career started blossoming and he earned his first top-ten finish in 1962 for the Daytona 500 Qualifying Race. By 1963, he was driving a Ford for Herman Beam, and soon after joined the Holman Moody team. After going through several teams, and after becoming a driver with the Wood Brothers, he won the 1967 Atlanta 500 and the Firecracker 400. In his career, Yarborough won the Daytona 500 four times, with his first one in 1968, and had a total of 83 wins, placing #6 on the all-time NASCAR winner's list. He won the National Motorsports Press Association Driver of the Year Award three times successively, in 1977, 1978, and 1979. He is also the second NASCAR driver to ever appear on a Sport's Illustrated cover. His final season was in 1988 and, after placing two ninth-place finishes, he retired at the end of the year.  Cale Yarborough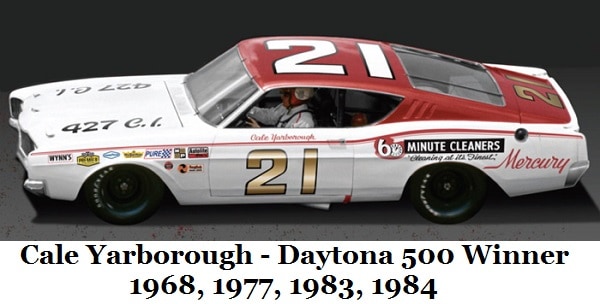 I am proud to bring you this site, after many years of wondering who won the Daytona 500 in a certain year or how many times did Richard Petty win?  I thought I couldn't possibly be the only one that has a need for a site like this.  So I made it.  If you found this site useful, please link to us or mention us on your racing related web site or social media.  Thank you very much.