From Air Force Base to the Legendary Petty Blue No. 43
By Kent Whitaker
Aric Almirola entered the Kansas race weekend as he normally would. Expecting the best, practicing, qualifying, and trying to get every ounce of performance out of his No. 43 Richard Petty Motorsports Ford Fusion. A good qualifying run put Almirola starting in the 13th spot. The start of the Saturday night Monster Energy NASCAR Cup Series race went well for the driver. What a difference a few laps on the track makes.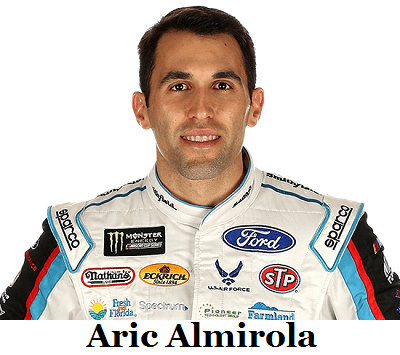 Almirola's evening would end with him being cut from his demolished car and flown to a nearby hospital. A wreck involving Joey Logano and Danica Patrick was unavoidable as Aric slid into the wrecking cars seemingly at full speed. He was diagnosed with a compression fracture to his back. Radio traffic release by NASCAR reveled that Almirola knew almost instantly that he was injured.
"Oh… My back, My back, My back, ahhhhggg, inaudible, ahh," Almirola said into his radio seconds after lowing his window net. Joel Edmonds, the No. 43 spotter instantly radioed back to his driver. "OK BUD, Help's Coming – Help's Coming – Just wait on them!"
Now, heading into the All-Star Race Weekend it's clear that Almirola will not be racing as Regan Smith has been named the replacement driver for the No. 43. No time schedule has been released for Aric's return.
Starting Early
The driver known for talking about Smithfield Bacon, as he should – they're his sponsor, was born in Florida on March 14, 1984 on Eglin Air Force Base. The military facility is just a short drive from Fort Walton Beach.  Almirola, who has a deep Cuban family heritage, grew up around the Tampa, Florida area and attended the University of Central Florida studying Mechanical Engineering before deciding to pursue his racing dreams fulltime.
As is with many drivers in NASCAR today Almirola's road to the Cup Series started early in life. At the age of eight, in 1992, he first started racing go-karts on a competitive level. It was apparent that he had a knack for driving as he started racking up wins, honors, and Championships in both local and state levels.
The young driver made the move to competing on a national level in 1998 in the World Caring Association. He nailed down the pole for the biggest event of the year in Daytona. He finished the season in the top-five at fourth place in the national standing.
Almirola kept moving forward with open-wheel modified, and late model series. He was a rookie of the year in SARA and finished second in rookie honors a short time later in the Florida Sunbelt Late Model Series. He followed that up with an amazing year where he locked down six poles – a series record.
Moving On Up!
In 2003 Almirola was one of the original Driver Diversity Program members under the Joe Gibbs umbrella. The next year he drove JGR late models capturing two wins, six top-fives and 15 top-10 finishes. 2005 was also a banner year as the driver won 7 times along with 11 poles that year. Next, he was behind the wheel of a NASCAR Camping World Truck Series rider where he finished in the top-ten during two of his four scheduled races.
Almirola raced in the Nationwide, now Xfinity Series in 2006-2007 earning three poles and six top-10s. All of the competitive runs helped bring him to the NASCAR Cup Series level when he signed with Dale Earnhardt Enterprises where he split time with Mark Martin. Almirola split time in the top-two series from 2009 to 2010 but also took a deal to race full time in the Camping World Truck Series where he finished second in points with two wins on the year.
More success followed with his time with Dale Earnhardt Jr as the driver of the No. 88 ride for JR Motorsports fulltime. The poles, top-five and top-ten finished kept mounting with JRM and he was ready to sign again with the team when the offer came from Petty to drive one of the most famous car numbers in NASCAR. Aric Almirola was named the full-time driver of the No. 43 in 2012.
Behind the wheel of the No. 43 Almirola continued to succeed. He won his first Sprint Cup Series Pole at the Charlotte Motor Speedway, and followed the next year with six Top-10 finishes, including four in a row. He won his first Cup race at the Daytona International Speedway in 2014. The checkered flag came 30 years after Petty had captured his 200th win on the same race weekend.
Family Man
Aric Almirola started racing at the young age of eight, was born on a military base, and has risen to become the pilot one of the most recognized cars in motorsports. At the same time, he's also become a husband and father. There's no doubt that Aric will work hard to return to his place behind the wheel of the No. 43 Petty car. But, in this day and age of athletes being more aware of their injuries and the impact the have later in life… no one could blame him if he decided to stay home with the wife and kids. I hope he comes back – but would be happy for him if he decided to hang up the helmet.


 ABOUT THE AUTHOR: Kent Whitaker, often called 'the Deck Chef,' is a sportswriter, culinary writer, and cookbook author with fourteen titles. He covers NASCAR, racing in general, Football, barbecue, grilling, and tailgating. You can visit him on The Deck Chef .