Joey Logano – 2015 Daytona 500 winner
February 22, 2015 the 57th running of "The Daytona 500″
Jeff Gordon on the pole with a qualifying speed of 201.293 mph.  At the half way mark Jeff Gordon leading, Jeff lead the most laps of anyone with 87 laps with 27 lead changes and he finished 33rd in the last Daytona 500 he will ever race in.  Joey Logano started 5th, lead for 31 laps and is the 2015 Daytona 500 winner.
Bob Dillner gets you caught up with all of the action from the 57th running of the Great American Race as Joey Logano wins his first DAYTONA 500.  2015
Video by: NASCAR
Dale Earnhardt Jr. in the lead with 86 laps to go.  Dale started 3rd, lead 32 laps and finished 3rd. Brad Keselowski started  39th and blew an engine with just 40 laps to go.  With just 8 laps to go Justin Allgaier blows an engine and hits the wall to bring out the yellow.  On the restart it was a green, white, checkered finish.  Huge wreck on the back stretch on the final lap, Joey Logano takes the checkered and yellow flags to be the 2015 Daytona 500 winner.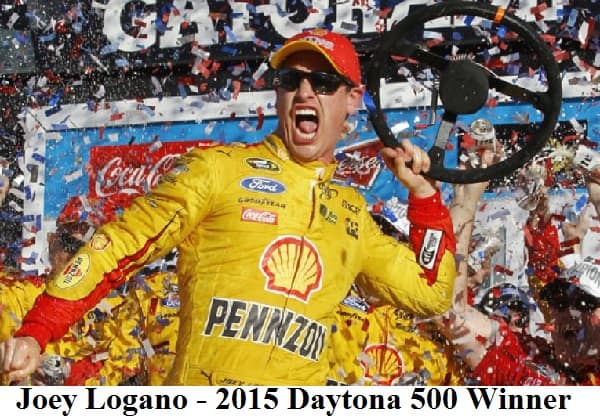 In his 8th year of NASCAR racing Joey Logano age 25 gets his first Daytona 500 win.  After a great 2014 season seems that the Shell / Pennzoil, Roger Penske Ford team are on a roll.  Joey won 5 races in 2014 starting at Texas then Richmond, Bristol, Loudon and Kansas.  He also had 5 top fives, 16 top tens and 1 pole.  Now Joey Logano is the 2015 Daytona 500 winner.
---
I am proud to bring you this site, after many years of wondering who won the Daytona 500 in a certain year or how many times did Richard Petty win?  I thought I couldn't possibly be the only one that has a need for a site like this.  So I made it.  If you found this site useful, please link to us or mention us on your racing related web site or social media.  Thank you very much.