Denny Hamlin – The 2016 Daytona 500 winner
February 21, 2016  "The Daytona 500″
2016 Daytona 500 winner – Denny Hamlin – 2016 Daytona 500 winner
At the 58th running of the Daytona 500 race on February 21st at the Daytona International Speedway came one of the closest finishes in its history. After holding a lead position for 95 laps, Denny Hamlin took home an amazing Daytona 500 victory, the 2016 Daytona 500 winner with the number 11 FedEx Toyota. He crossed a fraction ahead of Martin Truex Jr.'s Toyota at the finish line by just one-hundredth of a second, making it his first Daytona 500 win.
Crossing the finish line
The two crossed the finish line nearly simultaneously, and until NASCAR made the official call most were uncertain of who had officially won.  2016 Daytona 500 winner Denny Hamlin…
2016 Daytona 500 winner Denny Hamlin
Born in 1980 and having an early start at racing go-karts in 1988, Hamlin was quickly noticed for his strong finishes. In 2004, while he was competing full-time in Late Model Stock Cars, he was discovered and quickly signed to Joe Gibbs Racing. Taking this latest win home not only gave Hamlin his first Daytona 500 race, it also brought the first Daytona 500 victory to the Joe Gibbs Racing crew since 1993. This day was a successful race overall for the Joe Gibbs team, with Kyle Busch finishing third and Carl Edwards finishing fifth. It was also Toyota's first win at NASCAR's most coveted event.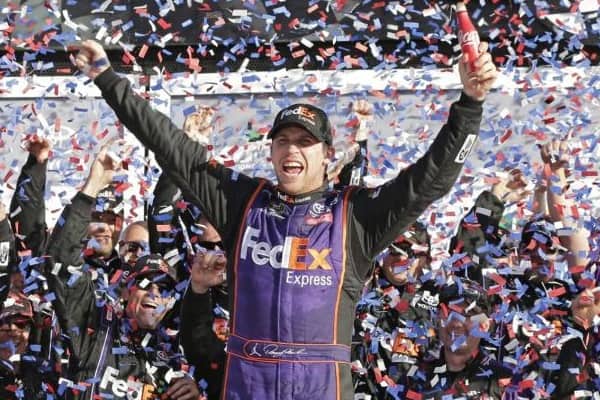 2016 Daytona 500 winner Denny Hamlin
When he was question afterwards, Hamlin stated how close the race actually was: "I had no anticipations of winning this race on the white flag lap. I didn't know we had won. I knew it was close." He also credited his teammates for their amazing showing and called it "a proud moment for everyone at Toyota." On the other side of the finish line, there were some tough finishes for fan favorites like Dale Earnhardt Jr. and Jimmie Johnson. And Chase Elliott, the youngest pole winner in history, had led the race early, but unfortunately crashed into the infield on the 20th lap.  2016 Daytona 500 winner Denny Hamlin…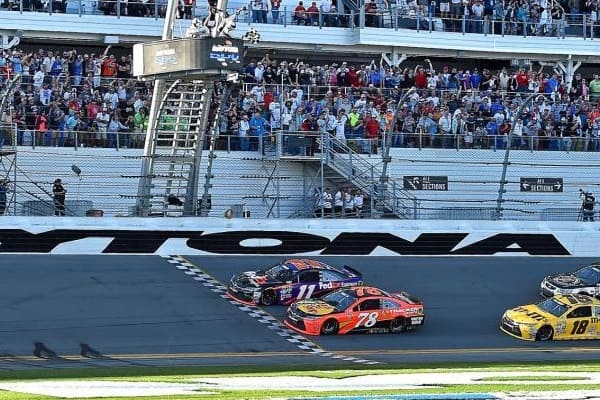 As a two time Daytona 500 winner, Earnhardt Jr. explained that his car had not been handling how he wanted it to, but still hoped he would have been able to get back out front in the race for a win. Instead, he experienced a crash on lap 170 while racing in the middle of the pack. Jimmie Johnson has been in the lead for 18 laps but ultimately got stuck in the back lines and finished 16th, his worst finish in four years.
2016 Daytona 500 winner Denny Hamlin
Denny Hamlin is the sixth driver to have ever won both the Sprint Unlimited, which ran several days earlier, and the Daytona 500 race during the same season, a feat achieved previously by some of the racing greats, such as Richard Petty and Jeff Gordon. Hamlin ultimately called the 58th Daytona 500 racing day a team victory, and with the lineup at the end, many are sure to agree.