Dale Earnhardt Jr. – 2014 Daytona 500 Winner
February 23, 2014 the 56th running of "The Daytona 500″
Austin Dillon puts the number 3 car on the pole with a qualifying speed of 196.019 mph.  Martin Truex Jr. starts in second.  7 caution flags, 42 lead changes and a rain delay of 6 hours, 22 minutes then the race was on.  Dale Earnhardt Jr. becomes the 2014 Daytona 500 winner for the second time in his racing career.  Dale Jr. started 9th and lead for 54 laps and wins.
Dale Earnhardt Jr. the 2014 Daytona 500 winner
In victory lane with Dale Earnhardt Jr. the 2014 Daytona 500 winner… 
Video by: NASCAR
Coming out of turn 4 for the checkered flag Dale Jr. in the lead with Denny Hamlin in a close second and Jeff Gordon & Brad Keselowski mixing it up for third.  Kyle Busch making it three wide on the outside back a few rows, what an exciting finish and then a wreck.  Kevin Harvick moves up a little just enough to get into the left quarter of Kyle Busch and turns him down right in front of the rest of the field of cars.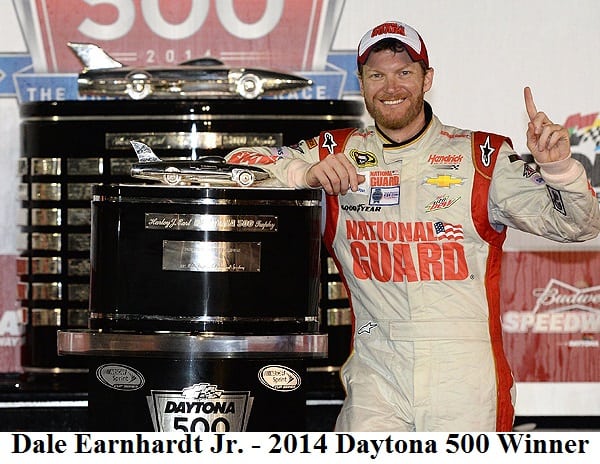 Dale Jr. won the 2004 and the 2014 Daytona 500.  He went on in the 2014 season to win 3 more races.  Both races at Pocono and then at Martinsville.  Jr. had 12 top fives and 20 top tens for the season.  Dale is looking forward to a NASCAR championship in 2015…
---
I am proud to bring you this site, after many years of wondering who won the Daytona 500 in a certain year or how many times did Richard Petty win?  I thought I couldn't possibly be the only one that has a need for a site like this.  So I made it.  If you found this site useful, please link to us or mention us on your racing related web site or social media.  Thank you very much.