Jimmie Johnson – 2013 Daytona 500 Winner
February 24, 2013 the 55th running of "The Daytona 500″
Matt Kenseth wins the most laps lead of the race at 86 laps then on lap 149 he blows an engine and finishes in 37th position.  There were a total of 6 caution flags, 28 lead changes and an average speed of 159.25 mph.  Dale Jr. started in 19th and finished second, not bad Jr.  Jimmie Johnson started 9th and is the 2013 Daytona 500 winner…
Video by: Digital Autosport Media
Danica Patrick a big part of the 2013 Daytona 500 story.  At 30 years of age Danica was the fastest in practice, she qualified on the pole with a speed of 196.434 mph and she became the first female driver to ever lead a Daytona 500.  Danica finished 8th.  This race was one of Danica's best in NASCAR so far.  Danica has a great sponsor in Godaddy and they have believed in her from the beginning.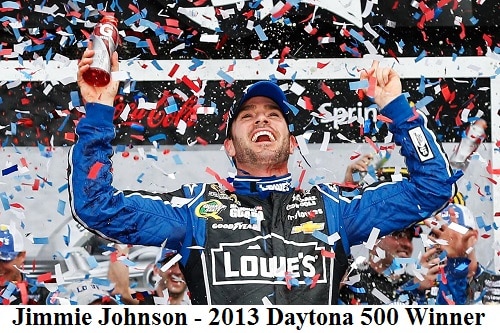 Jimmie Johnson Lead the race for 17 laps including the last one, the one that counts.  Dale Jr. in second, Mark Martin started in 14th and finished third, 4th place went to Brad Keselowski he did lead for 14 laps and rounding out the top five is Ryan Newman who started 34th, lead for 3 laps and finished 5th.  Jimmie would go on to win 5 more races in 2013 and the 2013 Daytona 500 winner is Jimmie Johnson…
---
I am proud to bring you this site, after many years of wondering who won the Daytona 500 in a certain year or how many times did Richard Petty win?  I thought I couldn't possibly be the only one that has a need for a site like this.  So I made it.  If you found this site useful, please link to us or mention us on your racing related web site or social media.  Thank you very much.