Trevor Bayne – 2011 Daytona 500 Winner
February 20, 2011 the 53rd running of "The Daytona 500"
Just 20 years old and approached by Jeff Gordon to work together on the track as drafting partners.  Jeff could see how good Trevor was at it in practice and preliminary races during speed-week and knew he had a fast car.  Trevor was a little better at being the push car in the back.  Late in the race, Trevor and David Ragan get hooked up and are working good together.
Video by: Nascar All Out
Overtime, lap 206, the final restart and Trevor Bayne is on the pole with Tony Stewart on the outside, Bobby Labonte behind Trevor and Mark Martin behind Tony.  Green flag and Trevor and Bobby jump out front, white flag and it's Trevor and Bobby.  Trevor thinks to himself at least we can tell people we were leading at the white flag at the Daytona 500.  Never dreamed he could be in position to win but he was and he did.  Trevor Bayne the 2011 Daytona 500 winner.  "Am I dreaming right now"?  Fun fact: The Wood Brothers haven't won Daytona in 30 years.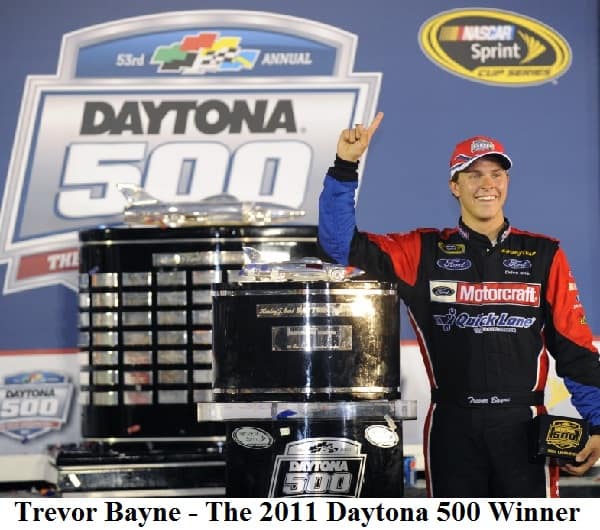 Trevor started racing go-karts at the age of 5 and has had racing in his blood ever since.  In 2011 Trevor Bayne became the youngest driver to win the Daytona 500,  This was like a fairy tail, a dream come true.  Trevor will have many more dreams come true in his long career.  A Daytona 500 that will stand out in our memories for ever.  The 2011 Daytona 500 winner – Trevor Bayne
---
I am proud to bring you this site, after many years of wondering who won the Daytona 500 in a certain year or how many times did Richard Petty win?  I thought I couldn't possibly be the only one that has a need for a site like this.  So I made it.  If you found this site useful, please link to us or mention us on your racing related web site or social media.  Thank you very much.