Jamie McMurray – 2010 Daytona 500 Winner
February 14, 2010 the 52nd running of "The Daytona 500″
Mark Martin won the pole position with a qualifying speed of 191.188 mph.  He lead the first lap, lead a total of 11 laps and finished in 12th.  Lap 14 Kevin Harvick pushes Dale Jr. in the lead and he would lead for 4 laps and finished in 2nd the same place he started.  Kevin Harvick leads the most laps of anyone today with 41 laps, he finished 7th after starting 5th.  Kevin was bad fast today!  2010 Daytona 500 winner – Jamie McMurray
Video by:  Speedtime1298
This was the race that they had so much trouble with the track surface coming up.  Twice they brought the cars down pit road and stopped them so they could perform repairs on the track.  Lap 199 Bill Elliott gets wadded up with Joey Logano in to the wall.  Green, white, checkered.  Lap 203 another wreck.  Green, white, checkered again and the winner is,  Jamie McMurray is the 2010 Daytona 500 winner.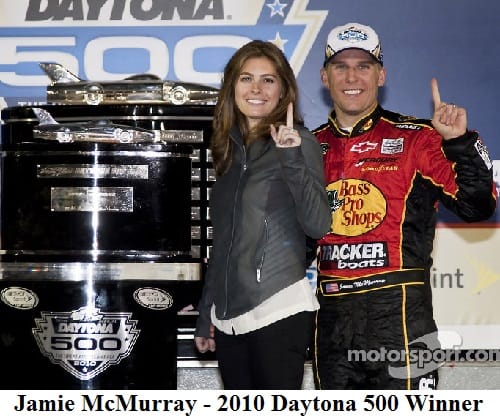 Jamie not only won the 2010 Daytona 500, he also won at Indianapolis and Charlotte!  For 3 wins in 2010, 9 top fives, 12 top tens and 4 pole position starts.  Great season for Jamie McMurray, one of his best so far.  Jamie was 34 years old on June 3rd 2010.  Jamie has raced in all three of NASCAR's series and has had great success.
---
I am proud to bring you this site, after many years of wondering who won the Daytona 500 in a certain year or how many times did Richard Petty win?  I thought I couldn't possibly be the only one that has a need for a site like this.  So I made it.  If you found this site useful, please link to us or mention us on your racing related web site or social media.  Thank you very much.