Matt Kenseth – 2009 Daytona 500 Winner
February 15, 2009 the 51st running of "The Great American Race"  Daytona 500
A rain shortened Daytona 500, 152 laps in the record book and Matt Kenseth is the 2009 Daytona 500 winner.  Matt started in 39th and led only 7 laps.  The pole sitter Martin Truex Jr. had a qualifying speed of 188.001 mph and he finished 11th.  8 caution flags and 9 lead changes.  The race had an average speed of 132.816 mph.  The time of the race: 2 hrs 51 min.
Video by: BumpsNotes
Second place went to Kevin Harvick who started 32nd, third place was A.J. Allmendinger who started 20th, fourth place was Clint Bowyer who started 22nd and in the fifth position was Elliott Sadler he started 30th.  Dale Jr. Had an incident with Brian Vickers.  Looks like Jr went low to pass Vickers and Vickers blocked way down to the yellow line and Jr. didn't care for that to much or he had such a run on him that they touched and sent Vickers in to the big one.  2009 Daytona 500 winner – Matt Kenseth…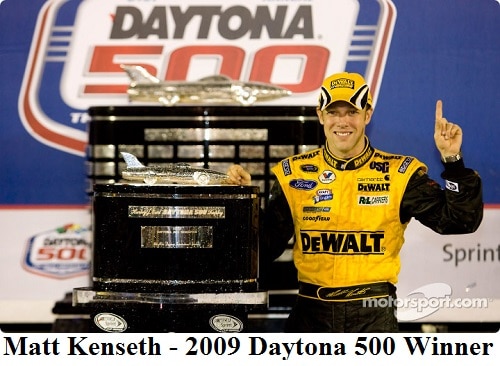 In 2009 Matt won the Daytona 500 and the very next race at Fontana Ca.  He had 7 top fives and 12 top ten finishes and won 1 pole position at Fontana.  Matt has had a great 18 year NASCAR cup career so far with 549 races, 31 wins, 152 top fives, 272 top tens and 13 pole positions. Kenseth is the 2009 Daytona 500 winner…
---
I am proud to bring you this site, after many years of wondering who won the Daytona 500 in a certain year or how many times did Richard Petty win?  I thought I couldn't possibly be the only one that has a need for a site like this.  So I made it.  If you found this site useful, please link to us or mention us on your racing related web site or social media.  Thank you very much.