Kevin Harvick – 2007 Daytona 500 winner
February 18, 2007 the 49th running of "The Great American Race"  Daytona 500
Blue skies, cool temperatures and controversy greeted the 2007 great American race.  Five crew chiefs were removed from their teams before the race for various infractions during qualifying.  This would be the first year for Toyota in the Nextel Cup racing series.  Also the first year for Jaun Pablo Montoya, coming off a big win at the 24 hours of La Mans.  The 2007 Daytona 500 winner Kevin Harvick.
Video by: Nascar All Out  –  2007 Daytona 500 winner
A rookie named David Gilliland won the pole with a qualifying speed of 186.32 mph. he would finish a respectable 8th place.  Tony Stewart won his qualifying race and started in 3rd position, by the 49th lap he was leading.  A mishap in the pits put him back in 14th position.  Kyle Petty blew a tire and Tony ran over some of the debris and had to pit again, then he got nailed for excessive speed in the pits and had to restart in the back.  It was not long and Stewart was in 15th place, a few more laps and he is in 9th, now in the top 5 and then going for the lead from Kurt Busch.  It took him 60 laps to lead again for the second time and he might have gotten loose and Kurt bumped him or something but they both were finished.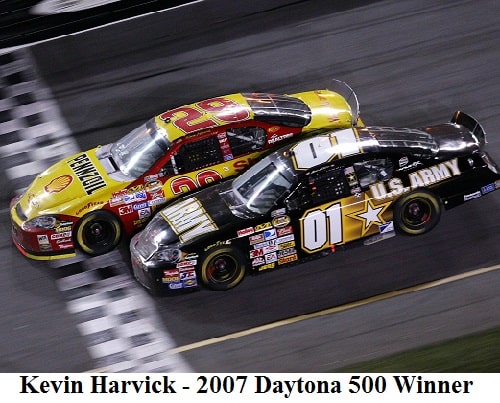 Mark Martin is now in the lead, 22 starts and no Daytona 500 wins.  His best finish was in 1995 when he finished in 3rd.  All he had to do is hang on to that lead.  No such luck, another yellow flag and a green, white, checkered finish was in order.  Martin, Busch, Biffle, Gilliland and Sadler at the re-start.  Going in to turn 4 Mark Martin gets  a little loose and Kevin Harvick gets a good run on him, at the finish line they are side by side.  Harvick wins by .020 of a second.  Not to mention the huge crashing of cars behind them, Clint Bowyer on his roof.  Wow what a finish!  The 2007 Daytona 500 winner – Kevin Harvick
---
I am proud to bring you this site, after many years of wondering who won the Daytona 500 in a certain year or how many times did Richard Petty win?  I thought I couldn't possibly be the only one that has a need for a site like this.  So I made it.  If you found this site useful, please link to us or mention us on your racing related web site or social media.  Thank you very much.