Jimmie Johnson – 2006 Daytona 500 winner
February 19, 2006 the 48th running of "The Great American Race"  Daytona 500
The 2006 Daytona 500 would be monitored more closely than ever before, penalties will be assessed.  It seems that the bump drafting was getting a little out of hand in 2005, it was becoming a little to aggressive.  So NASCAR's president Mike Helton has warned all drivers.  Tony Stewart ended up getting the first penalty as well as Matt Kenseth.  2006 Daytona 500 winner…
Video by: Nascar All Out
Jimmie Johnson's regular crew chief Chad Knaus was suspended in the qualifying race so Darian Grubb, the lead engineer for the team was filling in for him.  Johnson had lead for a few laps throughout the race but mainly just hanging around the top runners.  With only 5 laps to go the yellow flag came out and we were in for a re-start.  same thing with 3 laps to go when  Jamie McMurray hit the wall and brought out another caution.  So a green, white, checkered is what they had.  On the last lap Greg Biffle hit the wall and  Jimmie Johnson became the 2006 Daytona 500 winner.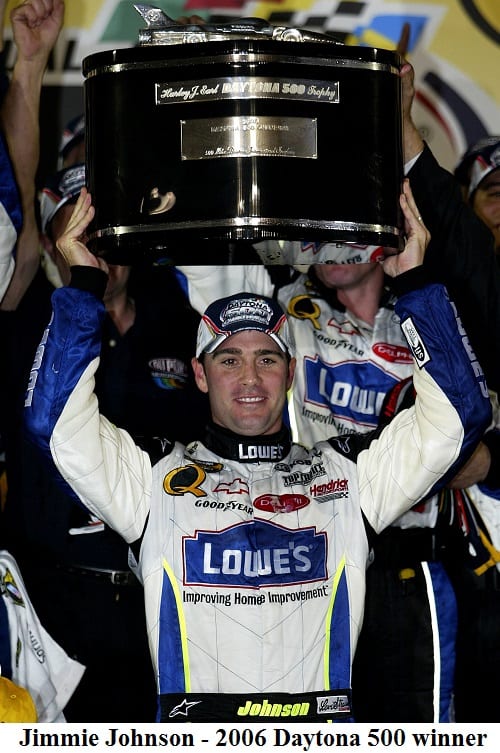 Jimmie started 9th and lead for 24 laps.  An amazing 32 lead changes, 11 cautions and an average speed of 142.667 mph.  Casey Mears was second, Ryan Newman took third, fourth place went to Elliott Sadler and Tony Stewart fought his way back up to finish fifth.  Jimmie Johnson would go on to win 4 more times this year.  The 2006 Daytona 500 winner…
---
I am proud to bring you this site, after many years of wondering who won the Daytona 500 in a certain year or how many times did Richard Petty win?  I thought I couldn't possibly be the only one that has a need for a site like this.  So I made it.  If you found this site useful, please link to us or mention us on your racing related web site or social media.  Thank you very much.