Dale Earnhardt Jr. – 2004 Daytona 500 winner
February 15, 2004 the 46th running of "The Great American Race"
Air Force One glided into Daytona Beach on February 15th 2004 and the commander in chief George W. Bush gave the command gentleman start your engines.  Greg Biffle won the pole position with a qualifying speed of 188.387 but due to an engine change had to start in the back.  So Dale Earnhardt Jr. started on the pole instead.  The first of only 4 cautions was brought out when Mark Martin blew a motor and spread oil on the track.  2004 Daytona 500 winner…
Video by: Nascar All Out
The big one happened on the 71st lap and Michael Waltrip got caught up in it.  After flipping 3 times and coming to a stop on the roof he gets out on his own power and waves to the crowd.  97 laps were lead by Tony Stewart,  Dale Jr. lead 58 and there were 26 lead changes in all.  Scott Wimmer only took 2 tires on the last pit stop and gained the lead but not for long.  By lap 175 Stewart and Jr. were out front again.  At the white flag Dale Jr. was in the lead with Tony Stewart in a close second and Scott Wimmer in third and that's how they finished, 1, 2, 3.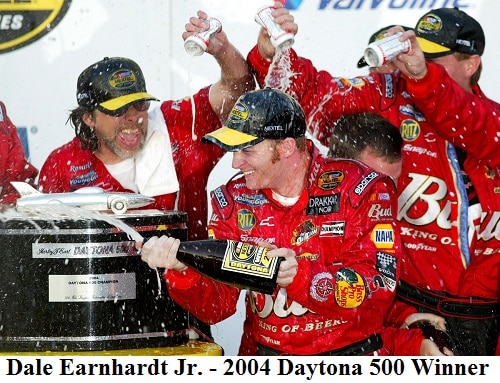 Dale Earnhardt Jr. is the 2004 Daytona 500 winner in just 5 years of trying.  He also won his 125 qualifying race.  Dale would go on to have one of the most successful seasons of his career so far.  With 6 wins, 16 top fives and 21 top tens.  The 2004 Daytona 500 winner Dale Jr.
---
I am proud to bring you this site, after many years of wondering who won the Daytona 500 in a certain year or how many times did Richard Petty win?  I thought I couldn't possibly be the only one that has a need for a site like this.  So I made it.  If you found this site useful, please link to us or mention us on your racing related web site or social media.  Thank you very much.