Michael Waltrip – 2001 Daytona 500 winner
February 18, 2001 the 43rd running of "The Great American Race"
Bill Elliott started on the pole with a qualifying speed of 183.565 he would finish in 5th. The first 100 miles ran under a green flag.  The first caution of only 3 was brought out by Jeff Purvis, a blown right front sent him in the wall.  With 100 laps to go the entire field made green flag pit stops.  Some new aerodynamic changes by NASCAR this year allowed for some very close racing.  Most of the race was 3 and 4 wide racing nose to tail, then the big one.  Tony Stewart got tapped and turned in to the wall and sent airborne backwards and 18 cars were crashed out.  Only 26 cars took the green flag on the restart.
Video by: Nascar All Out
21 laps to go at the restart, Dale Earnhardt Jr. then Ricky Rudd, with 17 laps left the lead changed for the 49th time.  Michael Waltrip moved out front after starting in 19th.  The end of the race was bitter/sweet as we all know, Mickey went on to become the 2001 Daytona 500 winner and Dale Earnhardt Jr. went for a ride in the back of an ambulance with Dale Senior.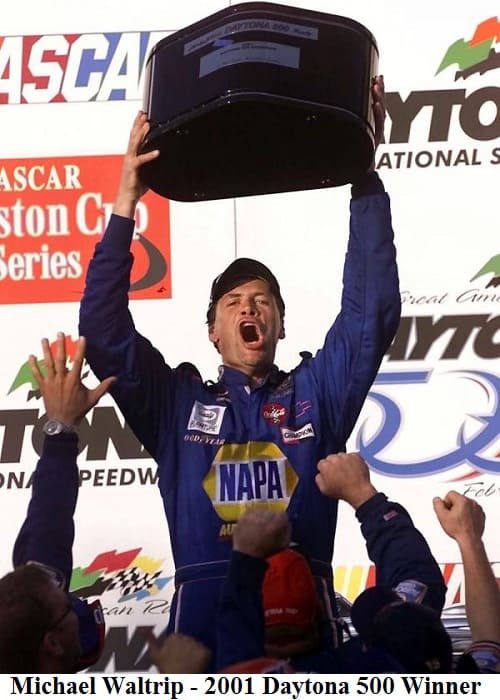 Michael Waltrip the 2001 Daytona 500 winner followed by Dale Earnhardt Jr. Rusty Wallace in third, Ricky Rudd in fourth and Bill Elliott took fifth place.  This win was so over shadowed by the death of Dale Earnhardt Sr.  this was Dale's last race, many have said he died doing what he loved to do and there is no doubt about that.  Dale has said many times that racing is all he ever wanted to do.  R.I.P. Dale.  Thank you for the many great years of racing memories!  Michael Waltrip the 2001 Daytona 500 winner…
---
I am proud to bring you this site, after many years of wondering who won the Daytona 500 in a certain year or how many times did Richard Petty win?  I thought I couldn't possibly be the only one that has a need for a site like this.  So I made it.  If you found this site useful, please link to us or mention us on your racing related web site or social media.  Thank you very much.