Jeff Gordon – 1999 Daytona 500 winner
February 14, 1999 the 41st running of the "Great American Race"
Pole sitter with a qualifying speed of 195.067 was Jeff Gordon to his outside in second position was a newcomer to NASCAR Tony Stewart sponsored by The Home Depot.  Dale Earnhardt started behind rookie Stewart.  On lap 58 Rusty Wallace had the lead and stayed in the lead until he pitted 63 laps later.  The third caution of the day was on lap 136, a huge pile up.
Video by: Nascar All Out
After a long clean up Rusty Wallace regained the lead with 47 laps to go.  Bobby Hamilton hit the wall and created a last chance pit stop under the yellow with 25 laps remaining.  Jeff Gordon and Dale Earnhardt took 4 tires and fuel, Rusty Wallace stayed out on old tires to keep the lead. With just 10 laps to go Jeff Gordon made a spectacular move, a pass down low to make it 5 wide and he takes the lead with Dale Earnhardt in second.  All the way to the checkered flag Dale was all over Jeff, looking high looking low at times he had help from behind from Kenny Irwin but Jeff Gordon was just to strong today and could not be passed.  The 1999 Daytona 500 winner is Jeff Gordon for the second time.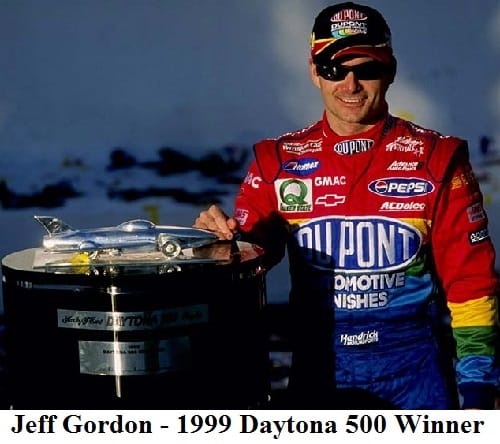 Jeff Gordon started on the pole, lead for 17 laps and won the show.  Rusty Wallace started 10th, lead for 104 laps and finished in 8th.  The rookie Tony Stewart started in second and finished 28th.  Dale Earnhardt started 4th, finished second and unusual for Dale never lead a lap. Jeff Gordon is the 1999 Daytona 500 winner…
---
I am proud to bring you this site, after many years of wondering who won the Daytona 500 in a certain year or how many times did Richard Petty win?  I thought I couldn't possibly be the only one that has a need for a site like this.  So I made it.  If you found this site useful, please link to us or mention us on your racing related web site or social media.  Thank you very much.