Dale Earnhardt – 1998 Daytona 500 winner
February 15, 1998 the 40th running of the "Great American Race"
The Labonte brothers would start on the front row, Bobby won the pole position with a qualifying speed of 192.415 – Dale Earnhardt would start 4th, this is the 20th Daytona 500 for Dale Earnhardt.  On the 17th lap Earnhardt took the lead.  In total he would lead 107 laps.  Three and four wide, the leader would change 13 times in the great american race.  Lap 197 Earnhardt is in the lead, Mayfield second and Gordon running in third but here comes Bobby Labonte, 2 laps to go and Bobby Labonte take second place and some cars get together coming out of turn 2 and the leaders are racing to the start/finish line. Dale Earnhardt is the 1998 Daytona 500 winner!!  "We won it, we won it, we won it!!  And the rest is history…
Video by: Nascar All Out
Dale Earnhardt was 47 years old in 1998 and he won the Daytona 500 and that was the only race he would win in 1998.  He did have 5 top fives and 13 top tens.  In 1987 Dale won 11 NASCAR races, in 1990 he won 9 NASCAR races.  Since 1980 Dale Earnhardt never missed a race.  In his total NASCAR racing career he won 76 races.  27 year career.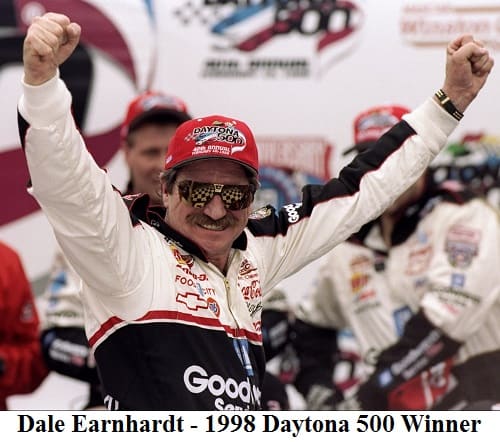 After 20 years of trying, he finally did it, Dale Earnhardt wins the Daytona 500!  So close so many times, always running up front and many times in the lead.  One year it was a tire, one year it was running out of gas, hitting a bird one year, it just seemed like something was always keeping Dale from winning.  On this day Dale Earnhardt earns the 1998 Dayton 500 winner.
1998 Daytona 500 Winner – Dale Earnhardt aka "the intimidator"
---
I am proud to bring you this site, after many years of wondering who won the Daytona 500 in a certain year or how many times did Richard Petty win?  I thought I couldn't possibly be the only one that has a need for a site like this.  So I made it.  If you found this site useful, please link to us or mention us on your racing related web site or social media.  Thank you very much.