Jeff Gordon – 1997 Daytona 500 winner
February 16, 1997 the 39th running of the "Great American Race"
Mike Skinner had the fastest qualifying lap at 189.813 mph so he enjoyed the first starting position with Steve Grissom to the outside.  Of course it wasn't long before Dale Earnhardt was in the lead.  Dale has now lead in 17 of his 19 Daytona 500's.  Jeff Gordon running a close second, on lap 57 Gordon takes the lead.  After a restart on lap 94 Mark Martin is in the lead with Dale Jarrett in second.  On lap 110 Gordon slow with a tire going down and has to pit.
Video by: Nascar All Out
In danger of going a lap down Jeff Gordon has no choice he has to get that tire changed.  His pit crew does a great job and the yellow flag comes out, just what Jeff needed.  Now restarting in the back Jeff has to work his way back to the front.  Mark Martin lead for 52 laps, with 20 laps to go Bill Elliott was in the lead followed closely by Dale Earnhardt and Jeff Gordon moving up fast.  On lap 188 Gordon made his move to the inside, Earnhardt got turned from behind and sent in to the wall then upside down then back again.  On the restart with 6 laps to go Gordon passes Elliott for the lead.  With 4 laps to go there is another 12 car pile up and the race ends under caution with Jeff Gordon the 1997 Daytona 500 winner.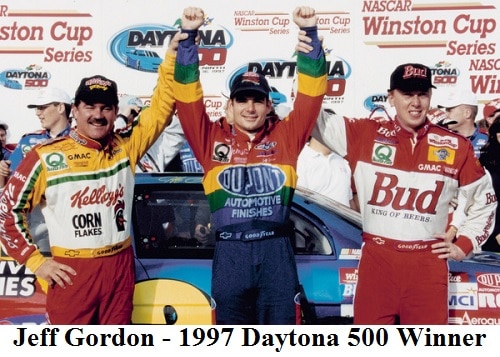 Jeff Gordon was just 25 years old and the youngest driver to ever win the Daytona 500.  The top 3 finishers were from Rick Hendricks – Jeff Gordon, Terry Labonte and Ricky Craven.  The 1997 Daytona 500 winner…
---
I am proud to bring you this site, after many years of wondering who won the Daytona 500 in a certain year or how many times did Richard Petty win?  I thought I couldn't possibly be the only one that has a need for a site like this.  So I made it.  If you found this site useful, please link to us or mention us on your racing related web site or social media.  Thank you very much.