Dale Jarrett – 1996 Daytona 500 winner
February 18, 1996 the 38th running of the "Great American Race"
The 1996 Daytona 500 winner is Dale Jarrett for the second time but it was Dale Earnhardt that earned the pole position for the first time with a speed of 189.51 mph.  He also won his 125 qualifying race.  Dale was in line to win the Daytona triple crown for this year.  No one had ever won the Daytona 500 three times in a row but Sterling Marlin was the man to get it done, he started in the 4th position but blew a motor early on and was out.
Video by: Nascar All Out
 3 laps to go, 2 laps to go and the white flag.  It was Dale Jarrett, Dale Earnhardt, Ken Schrader and Mark Martin nose to tail, round and round all looking high and looking low.  The last lap Dale Earnhardt tryed his heart out, high and low, trying to sling shot by the car just did not have it.  Earnhardt was getting everything out of that race car it had to give, it just wasent enough.  They called it "The Dale & Dale Show" – Dale Jarrett the 1996 Daytona 500 winner…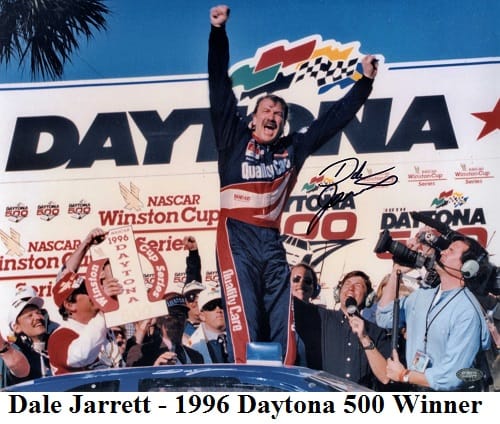 Dale would go on to win 3 more NASCAR races that year.  39 years old he would have 17 top fives, 21 top tens and won the pole starting position 2 times.  Ned Jarrett was happy for Dale's first Daytona win but the second win he was SO, SO, PROUD.  You can see it in this video…
---
I am proud to bring you this site, after many years of wondering who won the Daytona 500 in a certain year or how many times did Richard Petty win?  I thought I couldn't possibly be the only one that has a need for a site like this.  So I made it.  If you found this site useful, please link to us or mention us on your racing related web site or social media.  Thank you very much.