Sterling Marlin – 1995 Daytona 500 winner
February 19, 1995 the 37th running of the "Great American Race"
Dale Jarrett started on the pole with a winning qualifying speed of 193.498 mph. Front row outside was Dale Earnhardt, second row was Sterling Marlin and Jeff Gordon.  It was a cloudy overcast day.  Dale Earnhardt had never lead the first lap of the Daytona 500 til this one.  Soon Sterling Marlin would pass Dale and led the next 27 laps.  The next hour would have 5 separate incidents on the track.  Then the rain came, the race was red flagged for an hour and forty four minutes.  When the weather cleared and the green flag dropped Jeff Gordon led for 98 laps then it was Sterling Marlin's turn…  THE 1995 DAYTONA 500 WINNER!
Video by: Nascar All Out
With 37 laps to go everyone pitted for tires and gas for the last time today.  Dale Earnhardt won the race off pit road and assumed the lead.  With 20 laps to go here comes Sterling Marlin to take the led from Dale, his car was very strong today.  Last lap Dale was all over Sterling he looked high and looked low but Dale just didn't have enough to get by him and Sterling Marlin became the 1995 Dayton 500 winner again for the second year in a row.  He was the fifth multiple Daytona 500 winner and only the third to win it back to back.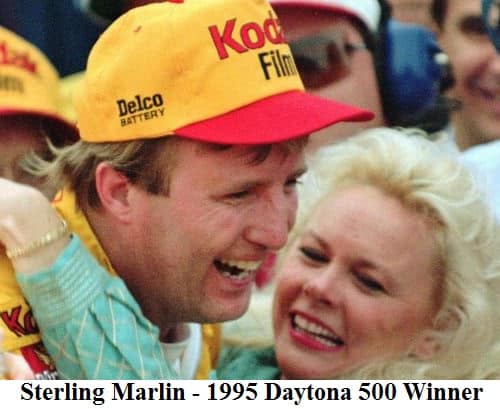 Sterling had won the Daytona 500, twice, in a row!  Good job Sterling!  All at the age of 38, he would go on to win 2 more races this year, Darlington and Talladega.  He would earn 9 top fives and 22 top tens.  Marlin sat on the pole 1 time in 1995 and raced in all 31 races NASCAR had on the schedule.  Congratulations Sterling Marlin the 1995 Daytona 500 winner…
---
I am proud to bring you this site, after many years of wondering who won the Daytona 500 in a certain year or how many times did Richard Petty win?  I thought I couldn't possibly be the only one that has a need for a site like this.  So I made it.  If you found this site useful, please link to us or mention us on your racing related web site or social media.  Thank you very much.