Sterling Marlin – 1994 Daytona 500 winner
February 20, 1994 the 36th running of the "Great American Race"
Five inches of rain fell the week prior to the 1994 Daytona 500  and there was an emotional calm over the track because of the 1993 deaths of Davey Allison and Alan Kulwicki in non racing accidents.  The first rookie to ever start on the pole, Loy Allen Jr. would finish a respectful 22nd.  Early on guess who, Dale Earnhardt and Ernie Irvan (who took Davey Allison's place in the #28)  would battle for the lead.  Mark Martin was running strong and Morgan Shepard lead at the half way point.  Sterling Marlin and Jeff Gordon were in the top 5 battling for position for the checkered flag.  The 1994 Daytona 500 winner, Sterling Marlin…
Video by: Nascar All Out
Sterling Marlin won the 1994 Daytona 500 but ran out of gas before getting to victory circle and had to be pushed.  Ernie Irvan took second, Terry Labonte was third and Jeff Gordon finished fourth.  Dale Earnhardt ended up in seventh position.  Mark Martin would finish 13th after running out of gas.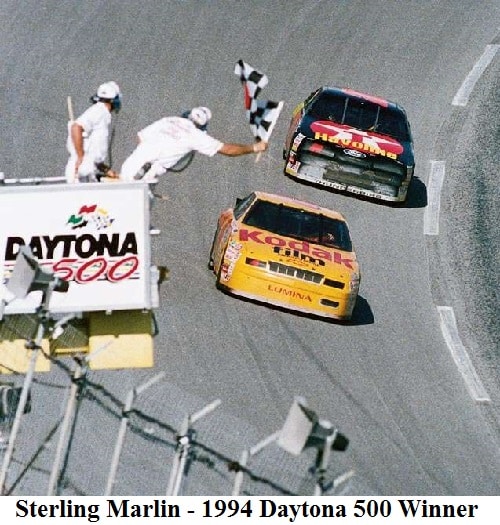 This Daytona 500 win in 1994 was Sterling Marlins first NASCAR win, ever.  Racing since 1976 Sterling had a tough start to his career.  If your first win is the Daytona 500, your doing something right.  This would be Sterling's only win this season.  In 1995 Sterling would win the Daytona 500 again, Darlington and Talladega for 3 wins.  1994 Daytona 500 winner…
---
I am proud to bring you this site, after many years of wondering who won the Daytona 500 in a certain year or how many times did Richard Petty win?  I thought I couldn't possibly be the only one that has a need for a site like this.  So I made it.  If you found this site useful, please link to us or mention us on your racing related web site or social media.  Thank you very much.