Darrell Waltrip – 1989 Daytona 500 Winner
February 19, 1989 the 31st running of the "Great American Race"
Pole sitter Ken Schrader and Darrell Waltrip were the first teammates ever to qualify one two. It was Schrader's second consecutive pole. They would dominate the whole race.  Ken led 114 laps and finished second to his teammate Darrell Waltrip.  Dale Earnhardt was third, Geoffrey Bodine finished fourth and Phil Parsons got fifth.  It was a cool and cloudy day for racing and the engines were making some great horsepower.  It would prove to be a day to remember.
Video by: Nascar All Out
 Neil Bonnett would be the first caution flag after blowing an oil line on his Wood Brothers Ford.  Everybody pitted for fuel except Darrell Waltrip, it was getting pretty spooky watching Darrell run on fumes.  He just barely made it. Another fuel mileage race. Drafting every chance he had played a big part in the outcome.  1989 Daytona 500 winner, Darrell Waltrip…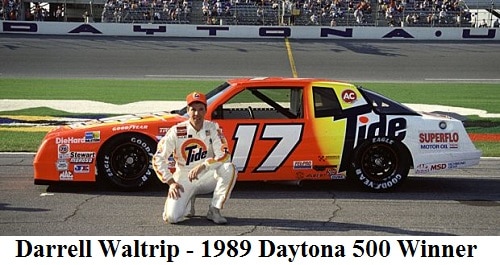 The 17th Daytona 500 start for Darrell and driving the number 17 car.  Darrell went on to win 5 more NASCAR races this season, tying Rusty Wallace for the most wins of the season.  This win is most associated with the Ickey Shuffle that Darrell performed in victory circle.  This was Darrell's first and only Daytona 500 win.  Congratulations on your victory Darrell Waltrip!
---
I am proud to bring you this site, after many years of wondering who won the Daytona 500 in a certain year or how many times did Richard Petty win?  I thought I couldn't possibly be the only one that has a need for a site like this.  So I made it.  If you found this site useful, please link to us or mention us on your racing related web site or social media.  Thank you very much.