Bobby Allison – 1988 Daytona 500 Winner
February 14, 1988 the 30th running of the "Great American Race"
Ken Schrader would start on the pole with a qualifying speed of just 193.823 mph after NASCAR's new mandate of modern-day restrictor plates to slow the cars down.  And slow the cars it has, about 16 mph on the average.  There were 7 different leaders in just the first 25 laps. Dale Earnhardt was in his black number 3 car, looking good and running strong.  He led for 2 laps and finished in the tenth position.  Ken Schrader would finish in sixth.
Video by: Nascar All Out
Bobby Allison was the 1988 Daytona 500 winner and his son Davey Allison finished in second!  It was a father and son finish.  Bobby led for 70 laps and Davey led 2 laps.  Early in the race Cale Yarborough must have blown a right front and hit the wall coming out of turn 4.  7 time winner of this race Richard Petty had a spectacular flipping violently down the front chute, his race car completely destroyed.  1988 Daytona 500 winner…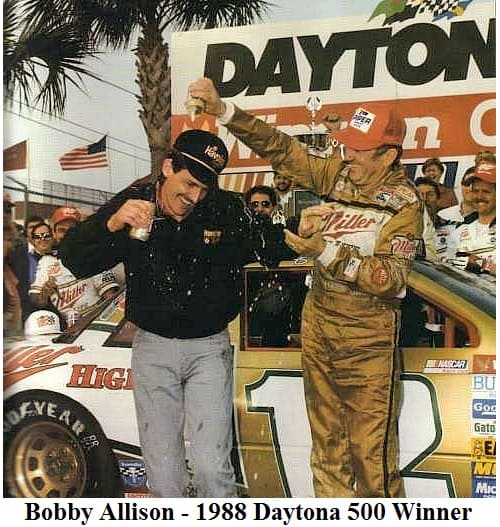 A proud day for both father and son, Bobby was happy to lead his son to the checkered flag of the Daytona 500 and if Davey had to finish second to anyone it would be his father.  50 years young, Bobby Allison would end his 25 year NASCAR racing career in 1988 and the 1988 Daytona 500 would be his only win that year.  He did have 85 wins in his total career.
---
I am proud to bring you this site, after many years of wondering who won the Daytona 500 in a certain year or how many times did Richard Petty win?  I thought I couldn't possibly be the only one that has a need for a site like this.  So I made it.  If you found this site useful, please link to us or mention us on your racing related web site or social media.  Thank you very much.