Bill Elliott – 1987 Daytona 500 Winner
February 15, 1987 the 29th running of the "Great American Race"
A record setting qualifying speed was set at 210.364 mph by whom you ask.  Yes, Bill Elliott. A remarkable qualifying effort put Bill on the pole for the start of the 1987 Daytona 500.  From the green flag it was obvious that Elliott had the car to beat.  This was Davey Allison's first "Great American Race".  He would finish a respectful 27th.  The 1987 Daytona 500 Winner…
Video by: Nascar All Out
Bill Elliott led 104 of the 200 laps in a dominating show of man and machine, he was unstoppable.  There were only 4 cautions and 27 lead changes in front of a crowd of 145,000 race fans.  Second place belonged to Benny Parsons, Richard Petty took third, Buddy baker held on for a fourth place finish and Dale Earnhardt  was a proud fifth place.  What a race it was, nothing like the good ole days of NASCAR racing.  What a great time in history!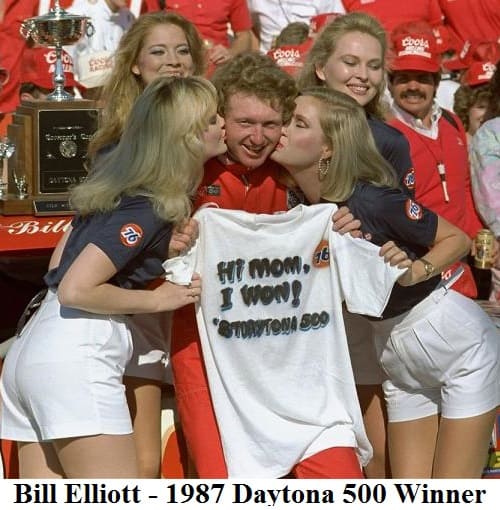 Bill started his NASCAR racing career at the young age of 20 in 1976 he raced in just 8 of the 30 races that year.  He wouldn't win a race until 1983 when he won the last race of the season at Riverside.  A 37 year career total of 44 wins, 175 top fives, 320 top tens and 55 times to start on the pole.
---
I am proud to bring you this site, after many years of wondering who won the Daytona 500 in a certain year or how many times did Richard Petty win?  I thought I couldn't possibly be the only one that has a need for a site like this.  So I made it.  If you found this site useful, please link to us or mention us on your racing related web site or social media.  Thank you very much.